If you've never been to Asia and are stressing over what to pack for Singapore for a smooth trip, have no fear! I'm here with tips to help you get the most out of your holiday!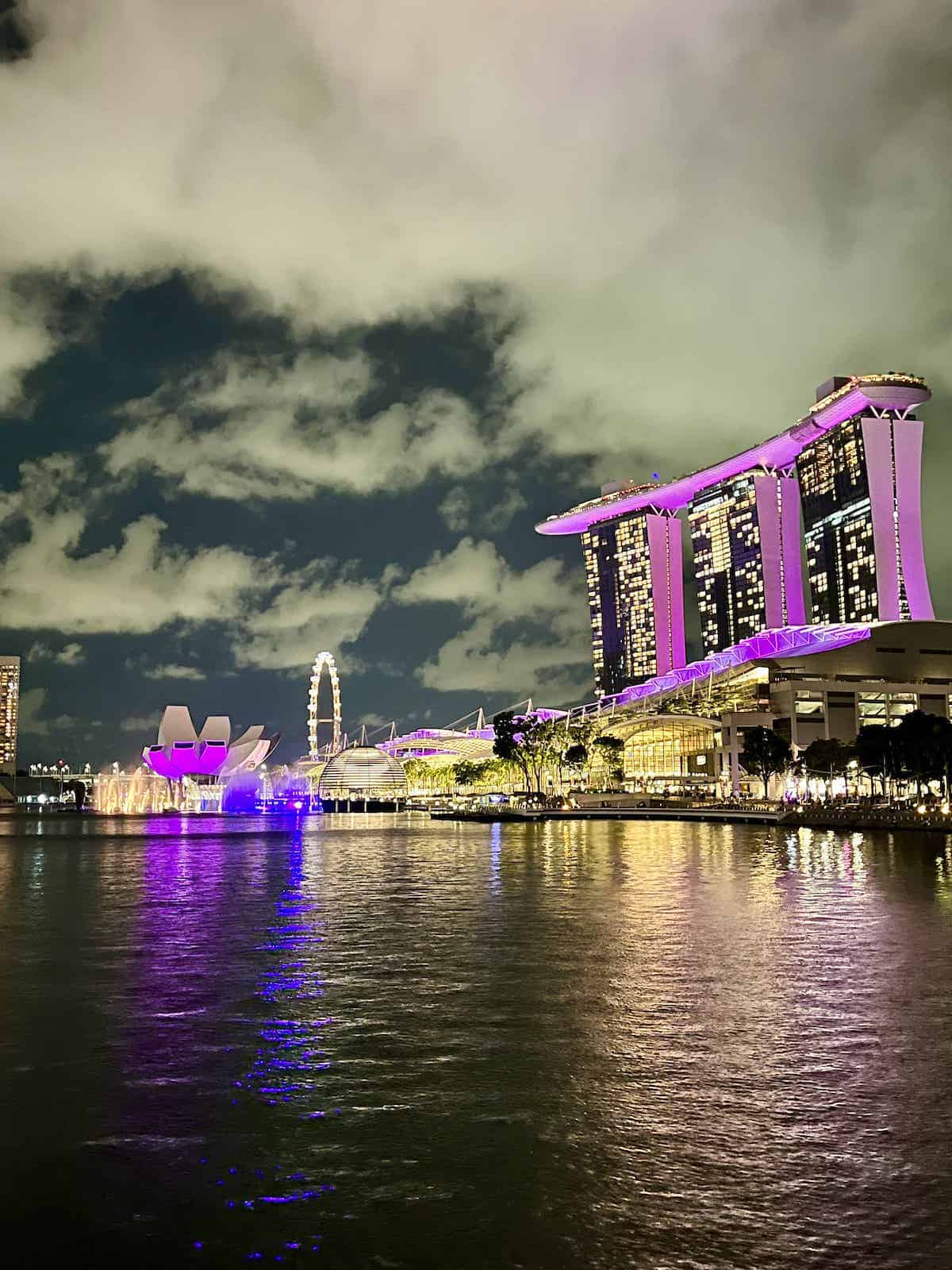 Jump to:
Singapore is a beautiful country, but travelling to a new place always involves some change from one's home country, so read on to find out what you should bring to best equip yourself for the differences!
Heat and Humidity
Singapore is located near the equator in Southeast Asia, which results in a hot and humid climate throughout the year.
The average temperature typically ranges from about 33°C (89.6°F) during the day to 22°C (71.6°F) in the evening (if you're lucky), with a shocking average humidity level of about 84%. (1 of the cons of living in Singapore.)
You can prepare for this by packing:
Light, breathable clothing: I recommend light clothing made from natural materials such as cotton or linen. (STAY AWAY FROM POLYESTER or you'll find yourself super hot and sweaty. Not the best feeling and not a good look for the photos!) I'll talk more about the various type of clothing for Singapore below.
Sunscreen with a high SPF: you need to protect from the harmful UV rays! SPF30 or higher is best though I personally use SPF50.
A hat or cap: this is great for sun protection but do note that it will make you feel a bit hotter as the heat won't be able toe scape from your head
Sunglasses: to shield your eyes from the bright sun
Insect repellent: with the weather comes its fair share of pests and repellent is important to keep yourself from becoming a mosquito feast. (With the mosquitoes also comes the risk of dengue fever, which can be dangerous and no fun!) You can buy a good bug spray everywhere when in the country or include it in your packing list for Singapore. (I HIGHLY recommend this if you're going to spend time outdoors, such as at Singapore Zoo, Botanic Gardens or the Gardens by the Bay!)
A water bottle: it's crucial to stay hydrated in the heat. You can obviously get bottle water everywhere, from the food court to the convenience store. However, bringing your own water bottle is a great way to live more sustainably!
Deodorant: With the heat and high humidity comes a lot of sweat! You'll feel less conspicuous if you stay fresh and comfortable during your trip with a reliable deodorant. You can opt for travel-sized versions to save space in your luggage.
Hand sanitizer or wet wipes: you may want to keep your hands clean and germ-free, especially when using public transport or touching shared surfaces, on your Singapore trip. NEVER TOUCH YOUR EYES AFTER USING HAND SANITIZER! And remember to stay away from open flames!
Rain
Singapore frequently experiences brief but intense rain showers all year round, during which the relative humidity level can even reach 100%! (The wind and rain are worse during the monsoon seasons. More on this below.)
To stay comfortable and dry during these showers, you may want to include the following items in your packing list:
A light, foldable umbrella: Good hotels such as Marina Bay Sands will include a full-size umbrella in your hotel room. However, you may find them inconvenient to carry around and a compact umbrella may be more practical. (Some people prefer to carry a lightweight, packable rain jacket or poncho that can be quickly put on when needed. Personally, I find these make the heat even more unbearable, except for the colder months at the end of the year.)
Quick-drying clothes: ones that won't remain damp for long periods after the rain stops are a great idea.
Waterproof footwear or sandals with good grip: to avoid slipping on wet surfaces after the rain!
A waterproof bag or cover for your belongings: especially electronic devices such as mobile phones
Tip: check the weather forecast before leaving your hotel!
Note: Singapore experiences two monsoon seasons, which typically occur between November and March, and from June to September. During monsoon season, you can expect extra heavy rainfall and strong winds.
If you want to visit Singapore when it's cooler, December is the best time as the gloomy weather means that the temperature will be as low as it ever gets! (My favorite time of the year though not a great time to be out and about.)
Clothing
There is a whole range of things to do in Singapore, from dining at Michelin-starred restaurants to hanging out in nature. Depending on what your plans are, you'll need different items, which I've summarised below:
- T-shirts and shorts or skirts: t-shirts or tank tops with shorts is pretty much the Singaporean uniform when going about their daily life. You'll definitely fit in if you dress this way! If you plan to spend time outdoors, your clothes will almost certainly get soaked with sweat, so you may want to ensure that you have at least 1 set for every day that you're in the country!
- More formal attire: However, if you're planning to dine at famous restaurants in Singapore, most will have a dress code. Women may want to include a few dresses that can be dressed up with accessories or down depending on the occasion. Men may consider bringing long pants and a shirt.
- Cardigan: If you plan to visit some of the city's beautiful religious sites, it's essential to dress modestly by covering shoulders and knees. A lightweight jacket will come in handy, and you'll definitely need it when spending time in some of the city's shopping malls or other air-conditioned spaces. (They turn the AC on strong in Singapore!)
- Swimwear: Singapore is home to a number of beautiful beaches, often featured as some of the best things to do in Singapore, so make sure to pack appropriate beachwear for your trip, if you plan to visit them. A stylish swimsuit or swimwear is a must, along with a wide-brimmed hat to shield your face from the sun. Don't forget a lightweight cover-up like a sarong or beach dress for added sun protection and comfort. Sandals and flip flops will work both on the beach and in the city!
- Finally, don't forget to pack enough underwear made with comfortable material to last for the duration of your trip.
Footwear
When visiting Singapore, you'll spend a lot of time walking and exploring the city, so it's essential to pack appropriate footwear, such as:
Walking Shoes
A comfortable pair of walking shoes is crucial for navigating Singapore's busy streets and parks.
Choose a pair that provides good arch support and is made of breathable material to keep your feet dry in the humid climate. Also, ensure the comfortable shoes have a non-slip sole to prevent falls on slippery surfaces. You may want to pack an extra pair of footwear in case 1 gets wet!
Note: if visiting a Singaporean friend's home, do note that Singaporeans do not wear shoes into their houses!
Sandals
Sandals are another excellent footwear option for Singapore, as they offer a comfortable yet fashionable alternative to walking shoes.
Consider choosing sandals with a comfortable footbed, adjustable straps, and a secure fit to ensure they stay on your feet while walking. Keep in mind that some attractions may have a dress code, so you might need to switch to more formal footwear for certain visits.
Flip-Flops
For more casual outings or beach visits, a pair of flip-flops can be a convenient and lightweight addition to your packing list.
They're easy to slip on and off, and ideal for walks along Singapore's sandy beaches. However, keep in mind that flip-flops don't offer as much support as walking shoes or sandals, so you should avoid wearing them for extensive walking or hiking activities.
Travel Essentials
Passport and Visa
When preparing for any holiday, it is important to ensure that your passport and travel documents are valid for at least 6 months beyond your date of entry.
Additionally, check any visa requirements for your nationality. Some travelers may need to apply for a visa in advance, while others can obtain a visa upon arrival or are visa-exempt for short stays. It is essential to research and adhere to the visa requirements. The last thing you want is to be denied entry into the country!
Travel Insurance
Travel Insurance is always a good choice wherever you go!
Cash and Cards
Although Singapore is known for being a cashless society- you can even pay with an app at most street food stalls- it is still a good idea to bring a small amount of local currency (Singapore Dollars) for emergencies or places that do not accept cards. Unlike other Southeast Asian countries, shops do not usually except foreign currencies such as USD.
It is recommended to have a combination of cash and credit cards for convenience and security. (For example, you can use foreign cards with contactless capabilities to tap in and out of public trasnport.)
I suggest bringing at least one credit card and one debit card, ensuring that they have low foreign transaction fees and are accepted worldwide.
Tip: Do remember to inform your bank about your travel plans to avoid any issues with your cards while abroad.
Chargers and Travel Adapters
Singapore uses the Type G power socket, which is common in the United Kingdom.
Make sure to pack a universal travel adapter to ensure compatibility with your electronics. It is also advisable to bring a portable charger to keep your devices charged throughout the day, especially when exploring busy tourist sites. (Most 5-star hotels will provide charging cables, but I've found that these often don't work so bringing your own is the best way to avoid stress!)
Packing a multi-port USB wall charger can also be useful for charging multiple devices at once, although most of the top hotels will have USB sockets next to their electric outlets.
Medicine Kit
I like to bring a basic first-aid kit for minor injuries or ailments during my travels. If you're on special medication, do remember to pack it as it may not be available in Singapore.
However, Singapore has VERY STRICT DRUG LAWS (aka capital punishment) so always check that what you bring is permitted!
Toiletries
Packing a toiletry bag with essential items can help make your stay in Singapore more comfortable.
Travel-sized toothbrush, toothpaste and dental floss
Facial cleanser and moisturizer (I recommend bringing a travel-sized face cream on long haul flights to prevent your skin from suffering. For your hand carry, remember to pack all liquids in containers of 100 ml or less and place them in a transparent, resealable plastic bag to comply with airport security regulations. Some airlines might even have a limit of 50ml so do check.)
Lip balm: the AC can dry out your lips!
Note: 5-star hotels will provide you with soap, body wash, shampoo and conditioner so you won't need to pack those. Some, such as the Marina Bay Sands Hotel, even provide you with travel-sized toothpaste, a tooth brush, razor and shaving cream, a hair brush etc!
Smartphone
When packing for Singapore, it is important to bring a reliable smartphone.
Free Wifi is available at most public places and a smartphone will help you navigate the city more easily. You may also want to consider purchasing a local SIM card for affordable data usage. There are multiple providers in Singapore, such as Singtel, StarHub, and M1, which offer various prepaid plans to suit your needs.
Alternatively, you can use a pocket WiFi device for internet access on the go.
For the Flight
If you'll be taking a long flight to Singapore, you may want to keep yourself comfortable with a travel pillow and headphones or ear plugs.
Packing Tips
Packing Cubes and Organizers
Packing for a trip to Singapore can be a breeze with the right tools.
One effective method is to use packing cubes and organizers. These handy compartments help separate your clothes and belongings while maximizing luggage space. Packing cubes come in different sizes, allowing you to neatly arrange everything in your Singapore packing list.
Organizers, like a toiletry bag, electronic accessories case, or shoe bag, keep your luggage clutter-free and make it easier to locate items when needed. You may also want to bring a fanny pack for daily exploration, which can accommodate essentials like sunscreen and your phone.
Minimizing Luggage Weight
It's important to check baggage weight allowances for your airline before packing, as this can vary depending on the airline and may result in additional fees if exceeded.
Here are a few tips to successfully minimize your luggage weight:
Pack clothing that can be easily mixed and matched to create various outfits.
Limit your footwear selection, considering versatile options that can transition from casual to more formal occasions.
Use travel-size toiletries, or purchase essentials upon arrival in Singapore.
Utilize your carry-on or daypack to distribute weight evenly across your luggage
Frequently Asked Questions
Are there any restrictions on items to bring to Singapore?
Yes, there are certain restrictions on items you can bring into Singapore. It is important to be aware of these restrictions to ensure a smooth entry into the country. Some of the prohibited items include:
Chewing gum: The sale and import of chewing gum is banned in Singapore, so it's best not to bring any with you.
Firearms, ammunition, and weapons: These items are strictly controlled, and you must have a proper permit to bring them into the country.
Controlled drugs and psychotropic substances: Do not bring any illegal drugs or medications that require a prescription in Singapore without proper documentation. Remember that Singapore has been known to impose the death penalty for drugs!
Imitation tobacco products, such as electronic cigarettes: Vaping is not allowed in Singapore.
In addition to the items mentioned above, Singapore has strict rules on the import of certain animal and plant products. Before bringing any such items, ensure that you have the necessary permits and documentation from the relevant authorities.
It is crucial to declare any restricted items upon arrival, as failure to do so may result in severe penalties, from fines to possible imprisonment or even death (for drugs.) For more information on the restrictions and required permits, visit Immigration and Checkpoints Authority website.
Now that we've covered everything you need to pack for Singapore, I hope you enjoy your time in the country! Any questions, let me know in the comments!