A Singapore 5-days itinerary by a local who's experienced Singapore, aka the lion city, both as a local and a tourist (after returning from 11 years abroad.)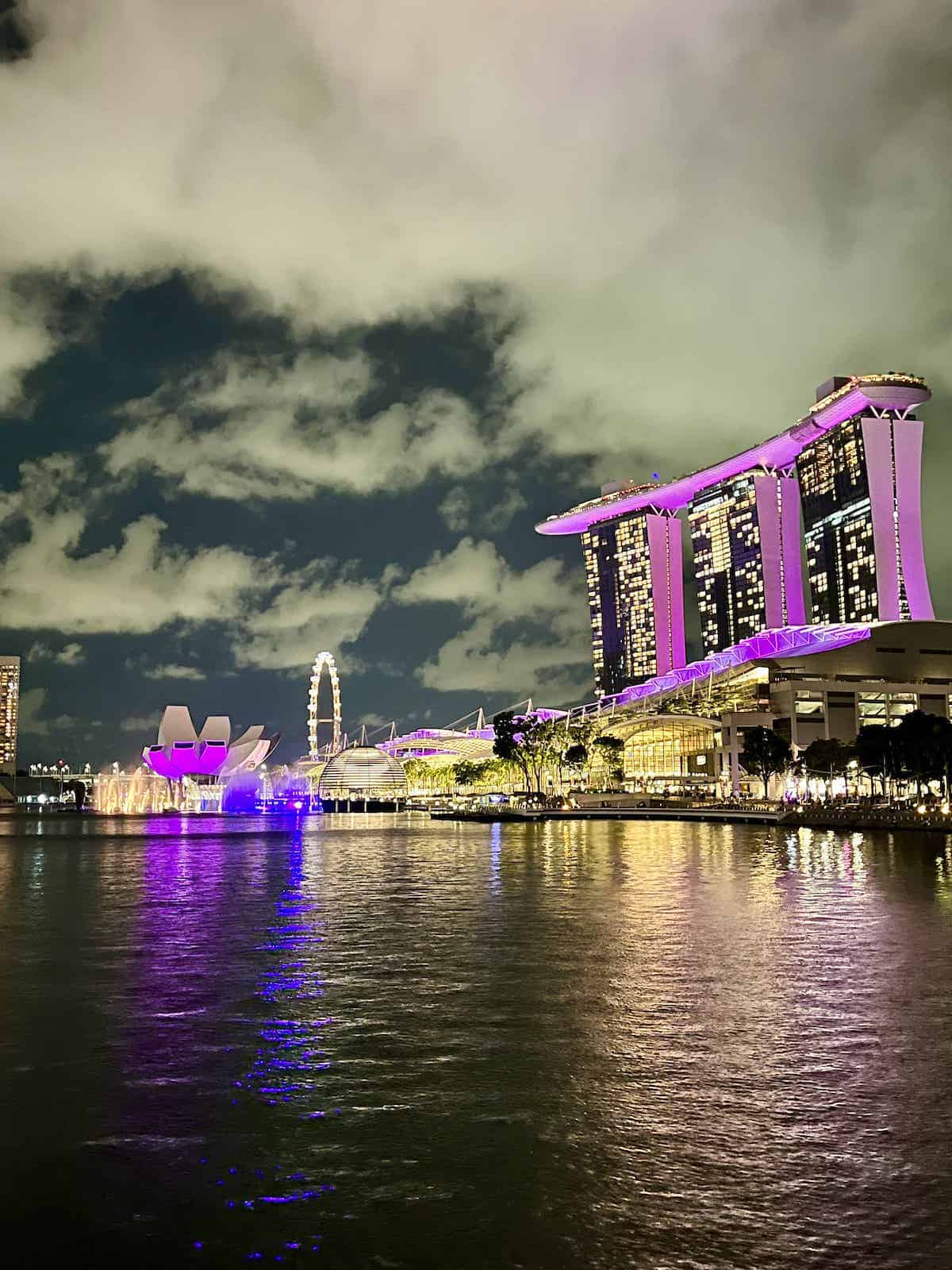 Jump to:
Before I wrote this 5-days itinerary for Singapore, I wondered if there really was a need for yet another guide to my little home island, given the number of travel blogs there are out there already. (Which gave me an excuse to procrastinate for weeks!)
However, after checking out the top Google results, I was convinced that there was! Some of those guides were so impractical- you'd be wasting so much time travelling from place to place- they were obviously written by people who had never been or at least not spent much time here!
So, hopefully, my "Singapore 5 Day Itinerary" will help fill in the gaps! And if you're not sure what to bring, here's a packing list for Singapore!
Local Tips
The weather in Singapore is, unfortunately, punishingly hot and stiflingly humid. (Having said that, I just got off the phone with a German friend who was telling me how much she was looking forward to coming back to Singapore's heat!) Hence, I've planned for activities that involve a lot of walking to take place in the mornings and evenings. (Also remember to pack accordingly!)
It also rains a lot- and heavily- so do bring a small foldable umbrella or be prepared to duck into the closest cafe for some shelter. (I don't recommend raincoats as it gets to be too hot in Singapore.)
How to get around: The public transport in Singapore (buses and the train, which we call the MRT) are cheap and efficient. You can use foreign-issued credit cards with contactless payment capabilities to tap in and out (to pay for your travel) but there is a surplus charge of S$0.50 in addition to any charges your home bank may make. To save the $$0.50, get n EZ-link card instead. (Alternatively, mobile payment works too. For more FAQ on using public transport in Singapore, click here.) You can also take taxis, which are mid-ranged. (Not cheap but not as pricey as London or the States.)
Where To Stay: Singapore offers a wide range of accommodation options to suit different budgets and preferences, from hostels and co-living to luxury hotels. Some popular areas to consider staying in are Orchard Road (cosmopolitan shopping haven), Marina Bay (stunning skyline and close to the water), and Bugis (a mix of old and new Singapore.)
Arrival
Changi Airport is often touted as 1 of the world's best airports and it certainly lives up to its name.
It has so many attractions, such as themed gardens like the Butterfly Garden and the Rain Vortex (the world's tallest indoor waterfall), as well as numerous shopping and dining options.
However, I'd recommend leaving checking out the airport's offerings on the day you leave instead of now!
DAY 1: Singapore River & Marina Bay Sands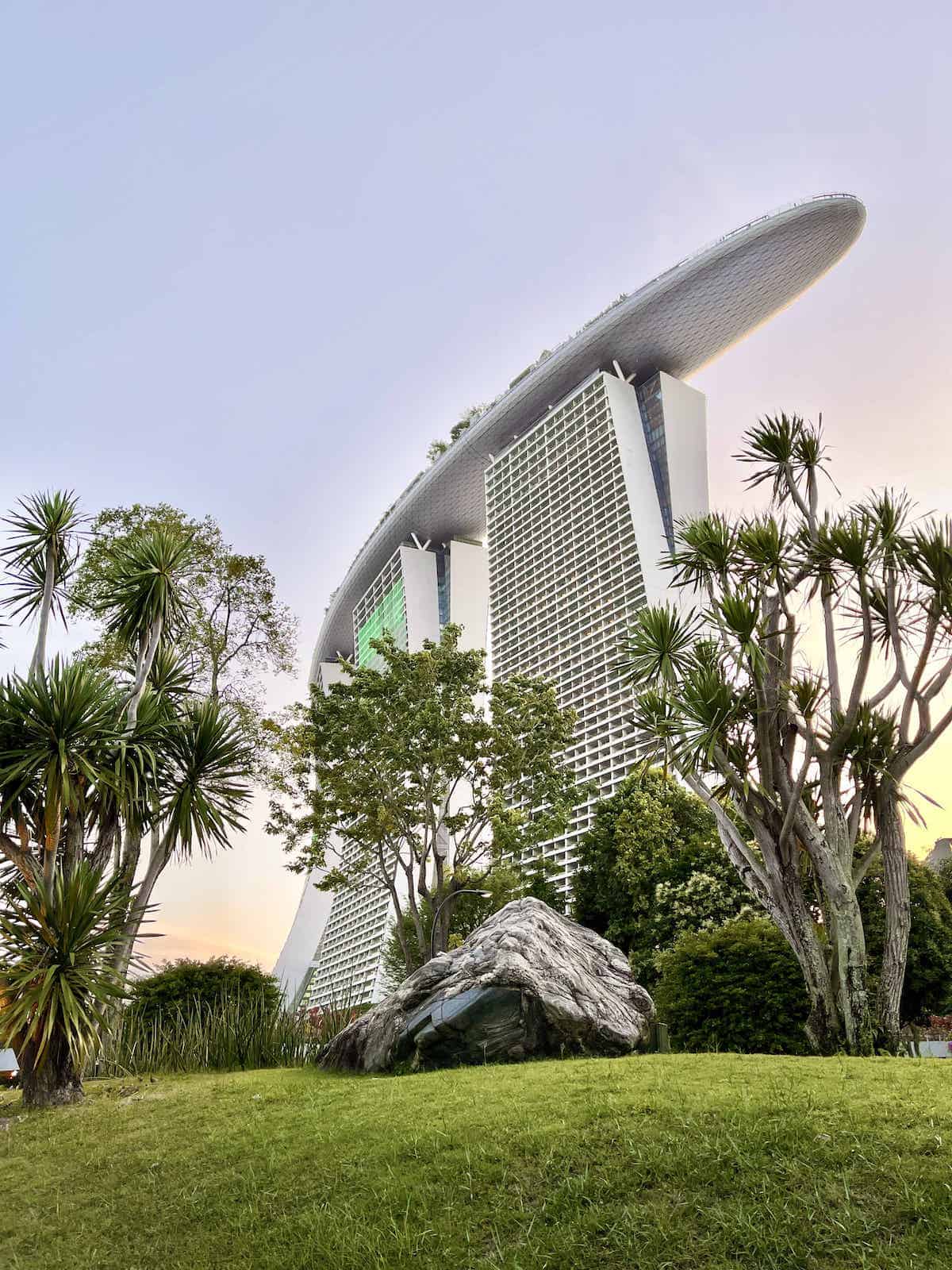 Let's start our visit with the Marina Bay Area, as a Singapore trip would not be complete without having seen it!
Breakfast
I suggest starting your day with breakfast at a hawker centre. There are dozens in Singapore, so just Google to see what's closest to your hotel and try Singapore street food there! (A popular local breakfast is kaya toast and kopi (coffee.))
We're actually headed to Gardens by the Bay after this and there is a hawker centre there (as well as a food court at the nearby shopping centre, Marina Bay Sands.) However, the experience won't be as authentic and the food not quite as good which is why I suggest breakfasting first!
Tip: start your day early so that it won't be so hot when you get to the Gardens!
Note: a hawker centre is a must-do in Singapore and I've pointed out some of the more famous ones below.
Gardens by the Bay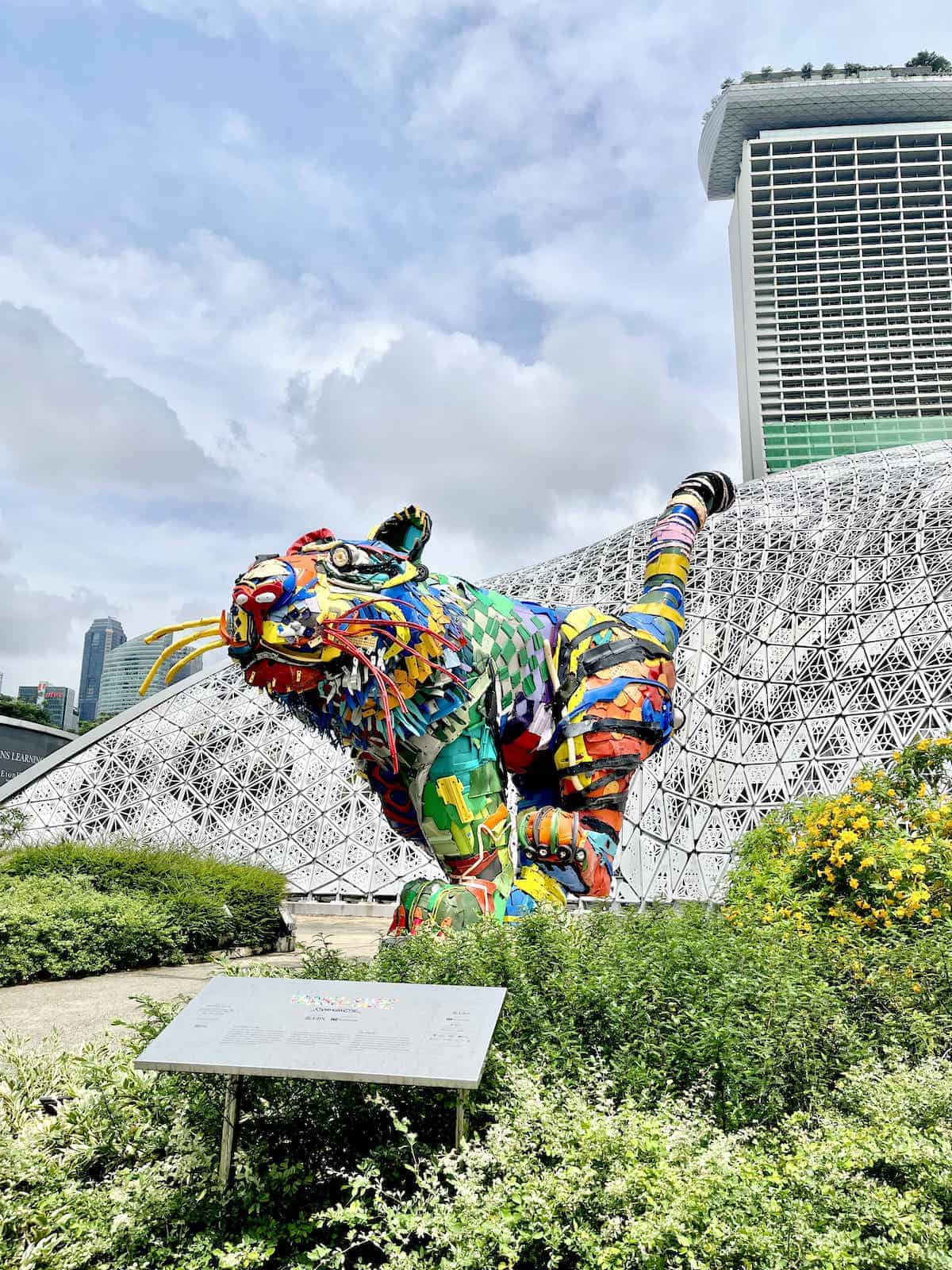 After that, you can take a bus or cab to Gardens by the Bay. If your hotel is near a MRT station, taking the train will be the cheapest and most convenient way to get there as there's a station right by the Gardens.
The Gardens are huge so how long you spend there depends on how much you want to walk! (Walking in it is free but the attractions within it are ticketed.) Honestly, in Singapore's heat, I'd be impressed if you can last an hour!
If you need a respite, you can take the Gardens by the Bay shuttle bus for $3/ return journey. This travels on a loop between the MRT Exit (Bayfront Plaza), Active Garden and Flower Dome.
There are also 20 or 30-minute audio tours between 12 to 5 pm, which last for 30 minutes. For these tours, you will embark on a cruiser for $7-10 pp.
Note: if you're not the most mobile, you can rent wheelchairs for $2/ day. They need to be returned by 9 pm. Renting a wheelchair allows you, but not your companion, to a free ride on the shuttle bus.
There is plenty to do and see at the Gardens, such as the Supertree Grove, Flower Dome and Cloud Forest, which will keep you occupied probably till close to lunch time! (Depending on how thoroughly you want to see the attractions, you can spend anything from 1 hour to 5 or 6 hours here!)
After all that walking, you'll probably want to sit down for a drink or a bite. There are lots of places to eat at the Gardens but, if none catch your fancy, head over to the Marina Bay Sands mall where you'll find many more choices.
Marina Bay Sands (MBS)
If you've visited Singapore because of the movie Crazy Rich Asians, well, you're in the right place at MBS!
There are all types of cuisine at Marina Bay Sands. If you're in the mood for Western food, I recommend Spago. (You will most likely need to make a reservation to get a table. There are 2 areas: 1 is the more casual al-fresco section and the other the more formal dining room, which offers both Al Fresco & Air Conditioning.)
The food and service at Spago are both excellent and you also get an amazing view of the Singapore skyline as well as the famous Marina Bay Sands Hotel's infinity pool. (Only hotel guests can access the pool but you'll be able to see it- and enjoy the same view- from Spago.)
Tip: by dining at Spago, you won't need to pay for the Sands SkyPark Observation Deck to enjoy the view!
Alternatively, for Chinese food, I recommend Imperial Treasures. Both their Teochew outlet and the Cantonese outlet (located near the casino) serve good food, but the ambience at the Teochew outlet is more enjoyable.
If you want something more affordable and convivial, try Haidilao Hotpot! The handpulled noodles demonstration is good fun!
For Japanese food, if you're there on a weekday, the lunch set at Wakuda (inside the Marina Bay Sands hotel) is a good deal! It works out to be about $100 pp (not including drinks) but the food is so fresh and beautifully executed. Moreover, Japanese food is never cheap in Singapore, anyway!
If you're thinking along the lines of Crazy Rich Asians, you can try Wakuda's parent restaurant, Waku Ghin. It's Michelin-starred, you'll need to book, and costs a hand and foot. (About $700ish not including drinks?)
Tip: The Bara Chirashi at Wakuda is the best in Singapore, in my opinion.
Shopping, Culture or a Foot Massage?
We've spent all morning out in the hot sun, so to ensure that you don't get heat stroke, let's spend the afternoon in doors. If you're a shopaholic, you can spend the afternoon enjoying retail therapy at The Shoppes (the MBS mall.)
For those that turn their nose up at shopping, the Red Dot Design Museum or Art Science Museum, located outside MBS mall, are also worth a visit. Or why not take a boat ride along the Singapore River? (There's a ticket stand right outside the mall.)
Tip: if your feet are feeling tired, why not get a foot massage at Natureland (in the mall)? Singaporeans looooooove their reflexology so you'll be really immersing yourself in local culture here! (They do full body massages at Natureland too.)
Waterside Walk
As evening arrives, and the temperature falls, make your way to the waterfront promenade. In my opinion, walking along the waterfront is 1 of the best things to do at Marina Bay Sands, and free too! (You can also rent skates or bicycles.)
It's so breezy and there are deck chairs to lounge on when tired, with music to set the mood. (Sometimes piped, sometimes from buskers.)
Tip: if you book early enough, maybe you can enjoy a free sailboat ride around the Bay!
If you're full of energy, you can walk the entire loop round the Bay.
Every night, there is also a free light and water show, Spectra, which is quite enjoyable to watch. Evidently, lots of people agree with me because the area right in front of the show is always PACKED. You'll either need to go early to get a good position OR you can walk across to the other side of the Bay to view the show. (Do note that whilst you can see the flashing lights, you won't get as good a view of all the special effects from the other side.)
Tip: apply for the MBS Sands Rewards Card and you get part of your expenditure back at many shops as Rewards Dollars (You usually get a maximum of 10% back.) The shopping dollars can be spent almost immediately- I usually get them by the next day.
Dinner
I'm not sure what time you usually eat dinner, so I'll leave it to you to decide whether to eat before watching Spectra or after (quite late.)
If you're having dinner before the show, then it would make sense to eat in the area. Some places you could consider are:
Gluttons by the Bay: a hawker centre outside Esplanade. You can walk along the waterfront to get there or take the train.
There are also a ton of choices along the waterfront as there are other hotels located along it.
Grab a burger from 1 of the food trucks between MBS shopping mall and the Red Dot Design Museum?
Others
If you have more energy than me, here are more things to do in the vicinity.
Head to Merlion Park to see Singapore's iconic mascot: the Merlion is a mythical creature with a lion's head and a fish's body. This popular landmark symbolizes Singapore's beginnings as a humble fishing village (Temasek.) There's nothing earth-shattering about the statue but you can snap some obligatory photos with the 8.6-meter-tall Merlion and it's a great place to enjoy the scenic views of Marina Bay Hotel.
Enjoy live music at the Esplanade: there are both ticketed and (occasional) free art performances.
DAY 2: Cultural Exploration
Today is going to very different from yesterday during which you saw the glitzy side of Singapore.
1 thing Singapore is famous for is its multi-racial population. We have Chinese, Malay, Indian and other races.
When the British ruled Singapore, they tried to segregate the different races into different areas- Singaporeans did away with this idea when we took back our own country. However, we still have areas which we call "Little India", "Chinatown" and Kampong Gelam (1 of the areas associated with Malays in Singapore.)
And that's where we'll be headed today!
Little India
Begin your day in Singapore's vibrant Little India neighborhood, where you'll be immersed in Indian culture.
Wander through the colorful streets and visit the stunning Sri Veeramakaliamman Temple, 1 of the oldest Hindu temples in Singapore. The original temple was built here around 1881 and dedicated to the Indian Goddess Kali, or the Destroyer of Evil.
Tourists are also often amazed and bemused by Mustafa Centre, where you can buy almost everything, from spices to a Rolex!
This is also the perfect place to indulge in some delicious Indian cuisine, such as Roti Prata or Biryani. Roti Prata is 1 of Singapore's favorite breakfasts, so why not start your day with it?
Tip: Tekka Market is 1 of the most famous hawker centres in Singapore (although it is currently closed for cleaning as of July 2023.)
Tip: If you're in Singapore during Thaipusam, I suggest visiting Little India on that day! (The date changes every year.) During this annual procession, you'll see Hindu devotees accomplish amazing feats, such as carrying spiked kavadis or having their tongues pierced with skewers.
It's very colorful, very lively and will definitely leave you feeling amazed! You're not in Kansas anymore!
Chinatown
After that, you can head to Chinatown which is located quite nearby (about 10 minutes by cab, although you can also take the bus or train.)
1 of the popular tourist attractions in the area is the Buddha Tooth Relic Temple, a significant site dedicated to the Buddhas revered tooth relic. This Buddhist temple is also home to a fascinating museum showcasing Buddhist art and history from Southeast Asia.
Although the temple looks ancient, it was actually opened in 2007!
After that, you can wander round the bustling streets that are filled with traditional shops, teahouses, and food stalls. If you didn't manage to try foot reflexology at MBS yesterday, you can give it a go here!
Tip: You'll probably have heard that Singaporeans are obsessed with food. There are a few famous Hawker Centres in Chinatown such as Maxwell Market, Chinatown Complex & Hong Lim. Personally, I prefer Hong Lim as my favorite laksa (Famous Sungei Road Trishaw Laksa) and curry noodle stalls are located there.
Having said that, Chinatown Complex is MASSIVE so you'll definitely be ale to find something you enjoy! (It's also well-known for having housed the cheapest Michelin-starred meal in the world. (Alas, the Soy Sauce Chicken hawker has since lost his star.)
Robertson Quay, Boat Quay & Clarke Quay
For dinner, why not head to nearby Robertson Quay, Boat Quay or Clarke Quay?
Note: you may be pretty hot and stinky after spending all day in the Singapore sun. If so, you may want to go back to the hotel to freshen up before heading over to Boat Quay or Clarke Quay!
Robertson Quay, Clarke Quay and Boat Quay are all vibrant riverside areas filled with restaurants, bars, and live entertainment. These historic quays are located along the Singapore River and a short walk from each other. They're all VERY popular with the expatriate crowd in Singapore.
They're great places to grab dinner and enjoy a leisurely evening stroll along the picturesque waterfront though most of the dining options here are on the pricier side as they cater to the Western taste.
Recommendation: I enjoy Po Restaurant at the boutique hotel, The Warehouse Hotel. It serves mod-Sin or modern Singaporean food in nice, trendy surroundings. Do note that the acoustics aren't the best so it can be noisy if the other guests are rowdy!
After dinner, you can walk off the meal by walking along the river. The Singapore River is a lovely place for a stroll when the weather is fine. Do watch out for overzealous cyclists though as the paths are narrow and not all cyclists respect pedestrian's rights! Or, if you're tired from the long day, you can experience a traditional bumboat ride along the water.
Do note that these areas can get quite rowdy (for Singapore) in the area at night, as there a lot of drinking places along the river.
Note: If you have a lot of time and energy, you can even walk (or cycle) all the way from Robertson Quay to Clarke Quay and then onwards to the Singapore Flyer, Marina Bay Financial District and the famous Marina Bay Sands Hotel.
We're pretty much out of time, so I'm leaving Kampong Gelam for tomorrow.
Others
Visit Pinnacle@Duxton: Singapore is well-known for its public housing. Around 80% of the population live in government flats (HDB), something which is typically associated with hardship and poverty in other countries. The country takes great pride in providing well-built public housing of a high standard and 1 of the best examples of the is Pinnacle@Duxton, a massive HDB very close to Chinatown which even has a Skygarden! (Non-residents have to pay $6 to enjoy the view of the city skyline from the top of the building.) Even the hawker centre at Pinnacle@Duxton is fancy, and looks more like a Beer Garden of sorts!
DAY 3: More Culture
Kampong Gelam
Today is time to visit Kampong Gelam, sometimes spelt Kampong Glam, a historic Malay neighbourhood.
This fascinating district is 1 of my favourites in Singapore as it's where tradition meets modernity.
There's the Sultan Mosque which was built in 1824 as well as the Malay Heritage Center, which is housed in the former Sultan's residence. The center offers an insightful look into the rich history and culture of the Malay people in Singapore and Southeast Asia. It also sometimes organises wonderful (subsidised!) activities, such as a foraging and cooking tour of Pulau Ubin.
Tip: if you're craving Turkish or Middle Eastern food, this is the area for it! There are several restaurants outside Sultan Mosque.
Haji Lane, which is known for its distinctive street art murals (they're all over Instagram), trendy cafes and unique independent boutiques, is 1 of my favorite shopping streets in Singapore. Next to Haji Lane is Arab Street, a good place to pick up fabrics and wholesale craft materials.
Tip: I like HJH Maimunah when I'm in the area. If you enjoy the food there, you can also buy the food paste to bring back with you!
National Gallery
Both the National Museum and National Gallery are worth checking out but, if you only have time for 1, I recommend the National Gallery.
Tip: if you have the $$$, you may want to try Odette, a Michelin-starred French restaurant located at the National Gallery. I went before it got its star and very much enjoyed it. However, the prices have gone up a lot since then, so I'm not sure if it's still worth it!
If you only have the budget for ONE Michelin-starred meal in Singapore, then I recommend trying something else instead. I mean why eat French food in Singapore?! I recommend the (also Michelin-starred) Candlenut Peranakan Restaurant instead, which is located in Dempsey.
Another Michelin-starred restaurant which serves local food in Singapore is Labyrinth. It's another place that I visited pre-star and, although I found the experience interesting, I preferred Candlenut. I'd say go to Labyrinth if you value interesting food experiences and stories but Candlenut if you're just looking for a delicious meal.
Raffles Hotel
When friends visit me, I always bring them to the Long Bar at Raffles Hotel. It's where the Singapore Sling was invented so is a great place to end the day with a cocktail!
Others
For those who like modernity and shopping: visit Singapore's famous shopping street, Orchard Road. Look out for the ice cream sandwich vendors along the road- the taste isn't anything special but the dessert is iconic in Singapore. It even inspired a dessert at Andre Chiang's Michelin-starred restaurant! If you do visit Orchard and enjoy architecture, I suggest walking along Emerald Hill. There are several bars and restaurants at the star but if you walk to the end, there are some beautiful Peranakan shophouses which people are still residing in today. 1 is even a co-living residence! (For a review of co-living in Singapore, click here.)
Fort Canning: if you're interested in World War 2, you may enjoy a visit to Fort Canning Park, which is just behind the National Museum. It's the site of the Battlebox Underground Bunker, the British Army's command centre during the war. Foodies and gardeners will enjoy a visit to the spice garden, where you can find several plants commonly used in Asian cooking.
DAY 3: Nature
Singapore Botanic Gardens
Singapore is often called a Garden City and it takes great pride in its greenery.
Many visitors enjoy seeing the Singapore Botanic Gardens which was actually the first UNESCO World Heritage Site in Singapore. In fact, my British friend told me the National Orchid Garden was her top recommendation for a must-visit place in Singapore!
There are always events on at the Botanic Gardens, such as concerts, guided tours and exhibitions, so I recommend checking them out and timing your visit appropriately. 1 of the activities I most enjoyed at the Botanic Gardens was a sketching workshop!
Tip: there are several eating places at the Botanical Gardens.
Zoo
Singapore Zoo is world-famous and well- worth a visit. If you've gotten tired of the heat by now, you can see the Zoo by night and check out the Night Safari instead. I've brought several friends to it and they've always enjoyed it!
If you're more for birds than animals, you can visit the Jurong Bird Park which has recently relocated to a newer, upgrader venue. My friends brought me there for my birthday last year and I very much enjoyed the bird feeding experience. (You will need to pre-book.)
Others
DAY 4: Peranakan time
Tiong Bahru
Let's start the day with breakfast at Tiong Bahru which is quite centrally located in Singapore.
It's a charming area with a village vibe, independent shops and a famous hawker centre (Tiong Bahru Market), so you'll be spoilt for choice!
Recommendation: if you want Singapore street food for breakfast, the Chwee Kueh (literally water cakes and a popular Asian breakfast) at Tiong Bahru are some of the best in Singapore.
Katong & Joo Chiat
After that, let's head over to Katong!
As I mentioned earlier, Singapore is famous for being home to many races and, not surprisingly, some of the races intermarried. Peranakans, or Straits-born Chinese, are people of mixed Malay-Chinese heritage, usually descendants of Chinese traders who married local wives hundreds of years ago.
The Peranakans have their own unique food and culture and, for some reason, congregated around the East of the Island. Joo Chiat and Katong are 2 of the best areas to experience Peranakan culture , also known as Nyonya culture, in Singapore.
There aren't actually that many Peranakans in Singapore but, for some reason, all my best friends are of Peranakan descent!
Tip: my favorite Peranakan dish is Ayam Muah Keluak, or Chicken cooked in a (detoxified) poisonous black nut!
Don't forget to check out the unique colourful Peranakan shophouses in the area and, if you want to stock up on Peranakan curry powder or buy authentic- and expensive- Peranakan fashion, I recommend visiting Rumah Bebe.
Peranakan kebayas (something like a fitted cardigan?) and beaded shoes are gorgeous and famous!
DAY 5: Sentosa
Alas it's now our last day on the island, so I've planned something more relaxing.
Namely, relaxing on the sandy beaches of Sentosa! Sentosa is pretty much a self-contained island and you can find almost everything there: from hotels and restaurants to some of the most expensive accommodation in Singapore.
Recommendation: I suggest trying Eurasian food at Quentin's. If you get to Sentosa nice and early, my family recommends breakfast at Capella Hotel, one of the best beach resorts in Singapore. (I'm not much of a morning bird so have yet to try it.)
Others
If you have children, or are young at heart, you may enjoy a trip to Universal Studios Singapore (located on Sentosa.) However, as it's not for everyone, I'm not going into details in this post.
I hope this 5 day Singapore itinerary was useful to you and that you enjoy your time on this beautiful island! If you have questions, feel free to leave them in the comments.