If you can't take the heat, here's a list of the 23 best non-spicy Korean foods for you! From main dishes such as Ginseng Chicken Soup to snacks such as Korean dumplings, we have you covered!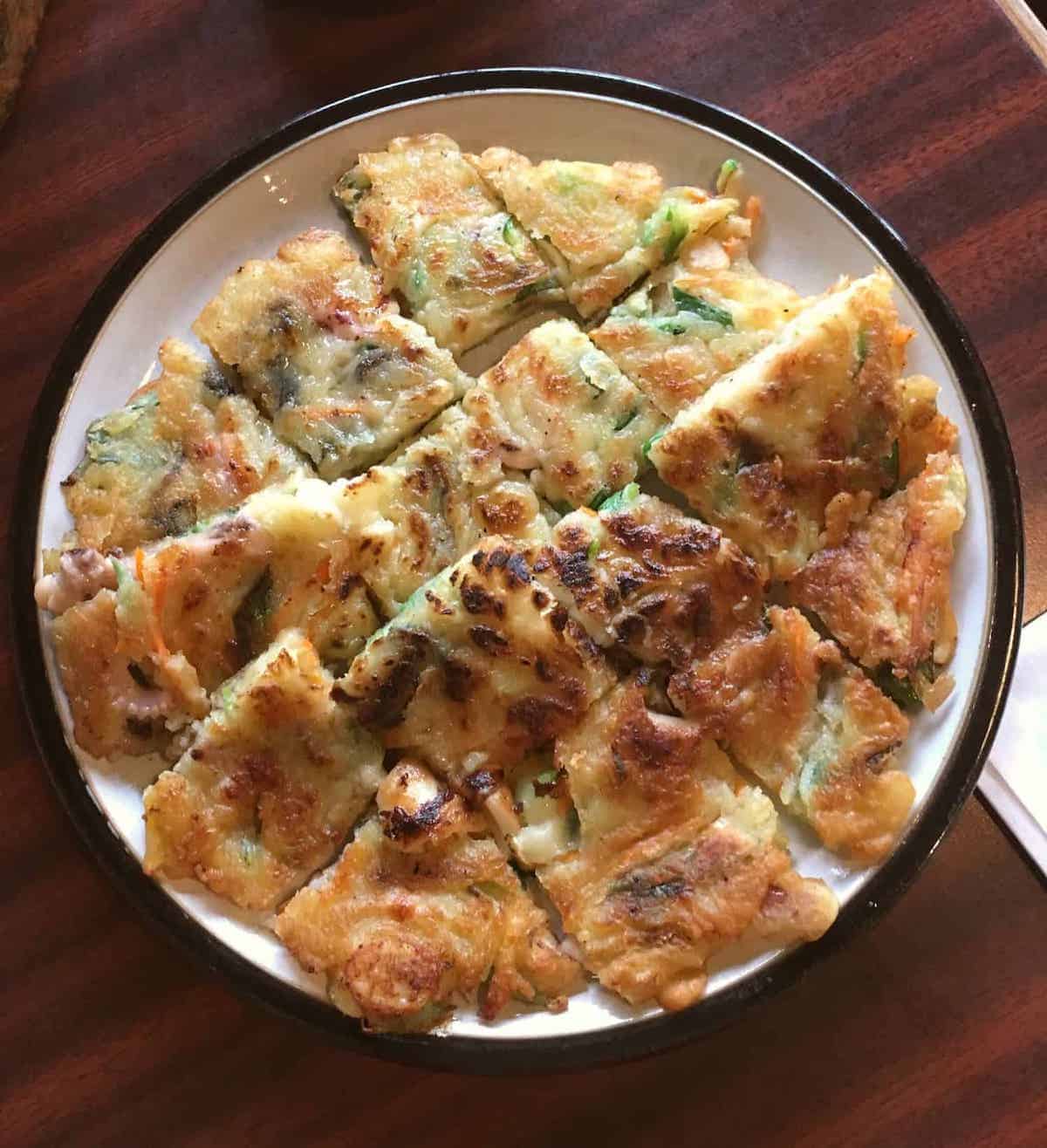 Jump to:
Now I love spicy food- I'm Singaporean and sambal is 1 of my best friends!- but, even then, Korean spice can be much too spicy for me. (Looking at you, Neng Myeon from the Michelin Rated Place Myeongdong Kyoja. So spicy, I was afraid I would get a stomach upset!)
Here's a list of some foods to order in Korea- or a Korean restaurant- if you can't take your spice!
Soups & Stews
Soups and stews are eaten in Korea for breakfast, lunch and dinner!
Chicken Ginseng Soup (Samgyetang) 삼계탕
This is a very nourishing soup but note it will have a slight herbal taste. It comes with a small chicken that is usually stuffed with glutinous rice, jujubes and ginseng.
Kal-guksu 칼국수
Kal-guksu, also known as knife cut noodles, is generally quite a light and clean tasting noodle soup. (Koreans do experiment with food though so make sure the one you're ordering is not red!) Perfect for those who enjoy non-spicy soups!
I've had it with seafood, as a sort of hot pot (haemul kalguksu), with meat (at Myeongdong Kyoja), with Kimbab (Korean sushi) and mandu (dumplings) in the soup.... So you can see it comes in all types of styles!
Typically, however, it is is a light, warm and comforting dish consisting of handmade wheat flour noodles, served in a delicious broth. The broth is usually made from ox bones, and the dish can contain various ingredients like clams, zucchini, and mushrooms.
Fun fact: It was made famous by the Netflix show, Street Food (which features the stall at Gwangjang Market.)
Seolleongtang 설렁탕
Seollongtang, or ox bone soup, is a milky white soup which comes with noodles AND rice! You can find green onions and beef slices in the soup.
Tip: it can be hard to find a good seollongtang these days as the bones need to be cooked for HOURS. Some Koreans even say you can't find a good 1 in Seoul anymore!
White Soondubu Jjiggae 순두부찌개
Outside of Korea, the most common Soft Tofu Stew (Soondubu Jjigae) is the red and spicy version- usually Haemul Soondubu (Seafood Tofu Stew.)
In Korea, you can find a non-spicy, white Soondubu Stew, that is also vegan at specialty Soondubu Restaurants. There is a good 1 at Bukchon and another near Myeongdong, just North of Cheonggyecheon.
Kongguksu 콩국수
This Cold Bean Noodle Soup is 1 of the harder dishes to find on this list as it is only served in summer!
Gukbap
Gukbap, or pork rice and soup, is a dish said to have originated in Busan because of the Korean War. It is a very hearty and comforting dish- I ate it 4x on my last trip to Korea!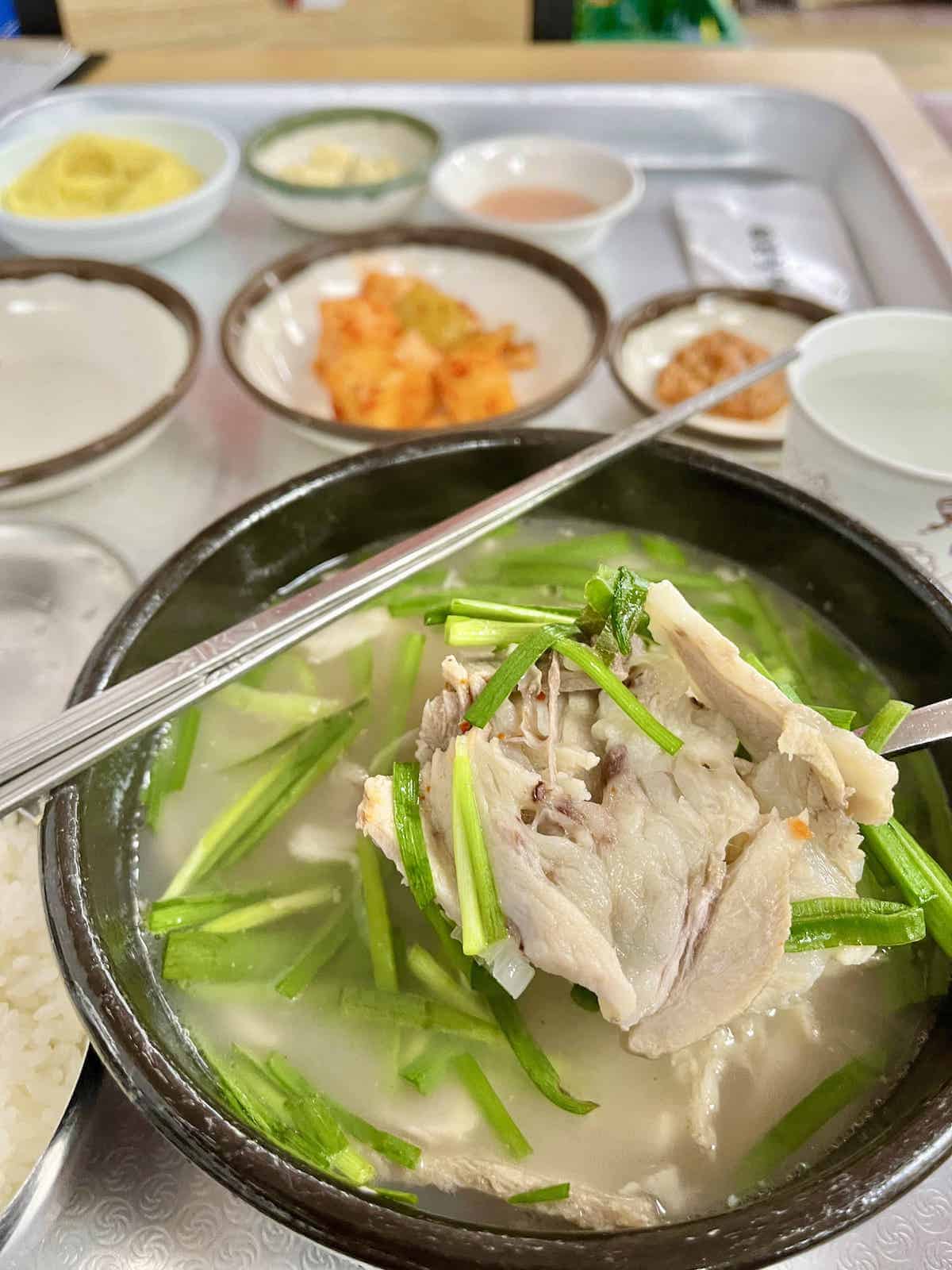 It is served with some spicy condiments, such as the radish kimchi kkakduggi, but you can just leave those out. (This is another DIY Korean food where you have to flavor the food at the table using saeujeot (salted shrimp.)
Doenjang Jjigae 된장찌개
This Korean miso stew is 1 of the 1st foods most Koreans learn to cook. Rich and savoury, it is usually served with rice.
Snacks & Side Dishes
Kimbap 김밥
Similar to but more savory than Japanese sushi, Kimbap (also known as gimbap) usually comes in a few non-spicy flavors. (Some spicy ones too, obviously!)
Mandu 만두
Korean dumplings, or mandu, are another popular non-spicy dish enjoyed by many. They come with different fillings- some are spicy, some are not!
The fillings range from ground pork, beef and vegetables to kimchi. (Kimchi mandu may be a bit spicy.) They can be steamed, pan-fried, or cooked in soups to make a satisfying and versatile dish.
Pajeon 파전
Pajeon is a type of Jeon (Korean pancake) that is made from a wheat flour and egg-based batter mixed with green onions (Pa.)
It's a crispy on the outside, soft on the inside, savory dish loved by many Koreans, usually eaten as a snack, side dish, or appetiser. Besides green onions, there are various other fillings, such as seafood (Haemul Pajeon.)
Note: Kimchi-jeon is not for you if you can't take spicy food.]
Gyeranjjim 계란찜
Gyeranjjim is a Korean steamed egg casserole that is soft and fluffy.
It is made by whisking eggs, water, and seasonings together, then steaming them until cooked. This dish is often served as a side dish in Korea.
To be honest, the dish can border on bland if the cook is not experienced enough, so this is not 1 of my favorite non-spicy foods to eat in Korea!
Twigim 튀김
These fried vegetables are somewhat similar to Japanese veggie tempura. The dipping sauce is often spicy, but you can just skip that and use a soy dip instead.
Still super tasty!
Odeng 오뎅/ Eomuk 어묵
Odeng, also known as Eomuk, is Korean fishcake that comes on a long wooden skewer. (It originated from Japanese fishcake, hence the similar names- Odeng, Oden.)
This street snack is a firm Korean favorite and originated in Busan. It is usually served with a clear soup that can mildly spicy. However, you can just eat the fishcakes and leave the broth!
Noodles
Japchae 잡채
Japchae is a popular Korean side dish (banchan) made of stir-fried glass noodles, vegetables, and sometimes meat.
Unlike Chinese glass noodles, which are made from mung beans, these Korean glass noodles are made from potato starch, and thus more chewy. (They're usually thicker than the average Asian glass noodle too.)
The dish is seasoned with soy sauce, sugar, and sesame oil- no spicy gochujang or gochugaru here! Common vegetables found in japchae include carrots, spinach, and onions but it's really a very versatile dish!
Jajjangmyeon 짜장면
Jajjangmyeon, or Korean black bean noodles, is a dish inspired by Chinese cuisine and is traditionally not spicy.
However, the Koreans are always innovating, so there are some hot versions out there!
Naengmyeon 냉면
Naengmyeon is a refreshing cold noodle dish perfect for warm weather. (Korea does get REALLY hot and humid in the summer.) It is commonly associated with Pyongyang.
It consists of thin, chewy noodles made from flour and potato starch, served in a cold broth. (The broth is usually made from meat stock and vinegar.) The dish is garnished with ingredients like boiled egg, pickled radish, and sometimes cold beef slices.
Note: there is a spicy version of Naengmyeon, such as Bibim Naengmyeon, so be careful not to order that!
Meat
Bulgogi 불고기
Bulgogi, or Korean marinated beef, is a sweet and savory dish. It doesn't look the prettiest as the meat is not caramelized- it's a grey-ish color- but it is tasty!
1 of the most famous dishes from Korea, it consists of thinly sliced beef marinated in a sweet sauce. This is typically made from soy sauce, sesame oil, sugar, and ginger.
It is often served with lettuce, side dishes (banchan), and dipping sauces, allowing diners to wrap (ssam) the meat.
Samgyeopsal 삼겹살
Samgyeopsal, or grilled pork belly, is a Korean favorite. The name literally means "3 layer flesh," referring to the layers of meat and fat. (There is also Ogyeopsal (오겹살), 5 layer flesh- basically Samgyeopsal but with the skin on!)
This meat is served on a grill, allowing diners to cook the pork themselves. (Koreans love DIY food.) As the pork cooks, it releases its delicious flavors and, together with side dishes, is wrapped in lettuce leaves or perilla leaves.
I feel hungry just thinking of it!
Note: some of the side dishes served may be spicy- just skip those!
Soondae 순대
Soondae is a type of blood sausage. Filled with rice and cellophane noodles, this is a beloved Korean snack.
You can eat it on its own, or it is sometimes served in soups, such as Gukbap!
Korean Fried Chicken 치맥
Korean Fried Chicken (and Beer), or Chimaek, is another good option for those who don't like chili.
Koreans have made an art of frying chicken and the batter is so crispy! The chicken can be served with different sauces- some spicy, some not!
Tangsuyuk 탕수육
Tangsuyuk is another Korean-Chinese dish- sweet and spicy pork!
Sometimes, beef is used instead of pork. This is usually served with Jajjangmyeon. However, I must confess that I prefer the Chinese sweet and sour pork to this version.
If you only have calories for 1 fried dish in Korea, definitely try Korean Fried Chicken instead of Tangsuyuk!
Donkasseu 돈까스
Donkasseu is a version of the Japanese pork cutlet, Tonkatsu. The meat is thinner, and sauce is slathered all over.
Rice
Juk 죽
Juk, or Korean porridge, comes in a variety of flavors- from abalone to pumpkin and veggie. There's also a plain white version that is usually served to babies.
Tip: if you're used to Cantonese congee, juk can taste a lot harder.
Which of this list of non-spicy Korean food have you tried? Don't forget to finish off your meal with a delicious Korean sweet such as Hotteok or Bingsu!