What Korean eat for breakfast: the most delicious foods to eat when you're in the Korean Peninsula! Like most Asian countries, this is traditionally a savory meal involving rice but there are some lighter, Western-inspired modern options too now!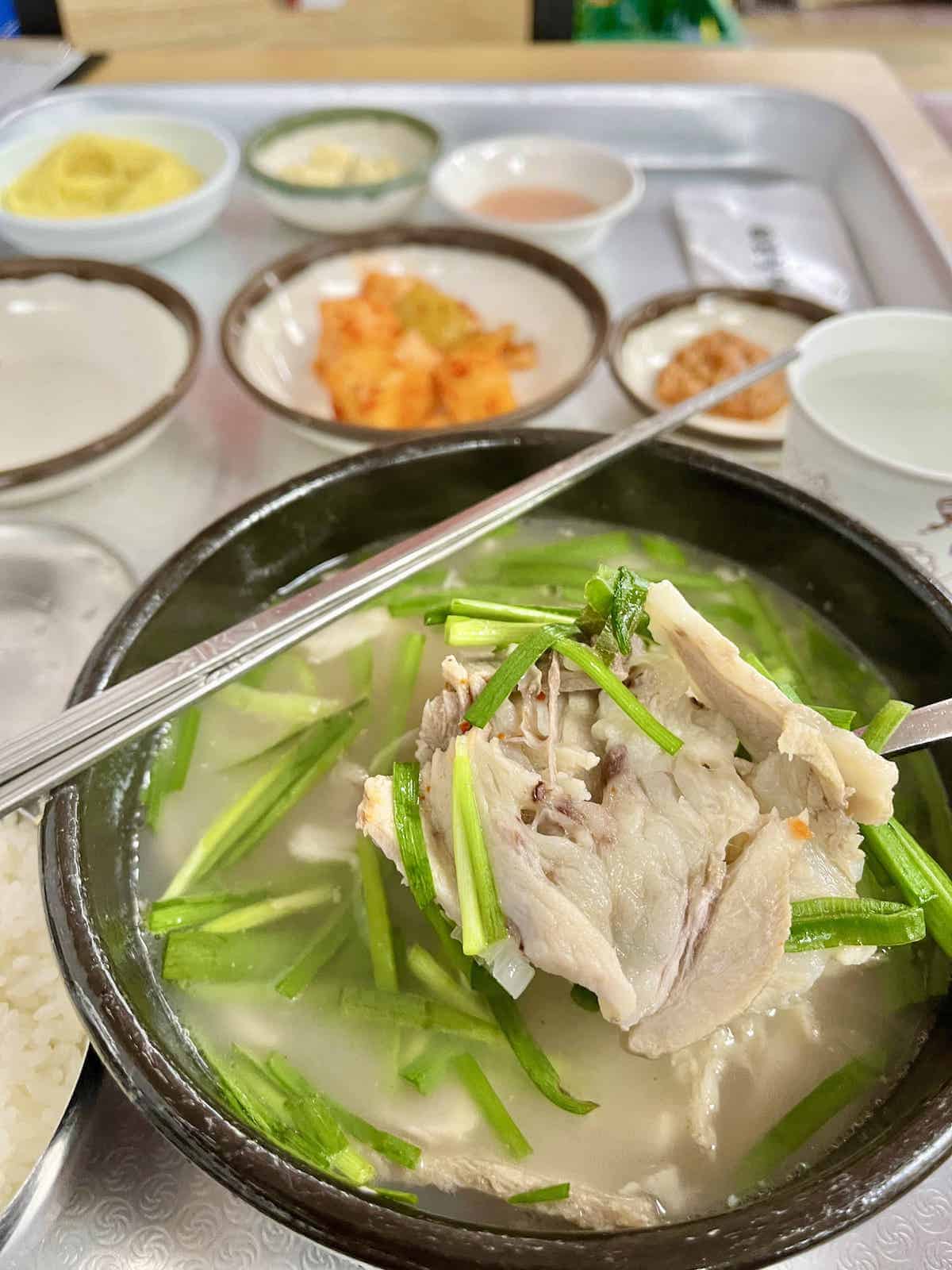 Jump to:
Breakfast is the most important meal of the day and that is reflected in the Korean breakfast!
If you're used to lighter Western style breakfasts of toast, waffles, fruits and/ or muesli, the traditional Korean breakfast- often involving a bowl of rice- may strike you as too heavy.
In fact, breakfast is Korea is traditionally quite similar to lunch and dinner and involves rice, meat/ seafood/ egg and vegetables. You usually get a tray with:
A hearty meal indeed! But it does give you lots of energy to start the day!
Note: However, these dishes are usually simpler than the ones you get for lunch and dinner.
As people get busier and busier, some people are leaving the traditional breakfast behind and going for quicker options, such as toast and Western breakfasts. As such, I'll touch on both traditional Korean and modern Korean breakfasts below.
Traditional
Rice
Korean food is all about rice (well, and noodles.)
A simple breakfast in Korea typically consists of a rice and soup. Rice is a staple in Korean cuisine. It can be served as plain white rice, multi-colored rice with beans and grains or as juk (Korean rice porridge).
It's usually served in a small bowl though, so you don't have to worry about going into a food coma. (The side dishes help fill you up!)
For the simplest rice breakfast meal, try Gyeran Bap (Basically egg and rice!)
Note: Nuts and seeds are commonly used in Korean meals as a source of protein and to enhance flavor. To make white rice more healthy, Koreans often combine it with black beans and other healthier grains.
Juk
Juk 죽 can be made with different ingredients, such as vegetables, meat, or seafood. It's also easy on the stomach, making it a nutritious and filling breakfast option.
There is pumpkin porridge, abalone porrdge, bean porridge (kongjuk) etc etc Unlike Cantonese congee, which is silky smooth in texture, Korean porridge is more hearty and the rice grains are more distinct.
Tip: Korea has many one-dish restaurants and some of these, such as Bonjuk, specialise only in porridge!
Kimchi Fried Rice
Another popular breakfast dish is kimchi fried rice, as it doesn't take much time to cook (about 10 minutes, assuming you have leftover rice on-hand.)
You basically stir-fry rice, vegetables, kimchi and maybe some Spam and cheese. This makes a spicy, tangy and savory, satisfying and flavorful meal!
Bibimbap
Another good option is Bibimbap, a one-pot dish with rice, colourful assorted vegetables and sometimes also ground beef, egg, and red chili pepper paste (with a gochujang base.)
It makes for a well-rounded and nutritious meal. If you cut the veggies the night before, it's pretty quick to put together too!
Note: Some versions add seafood instead of meat.
Soup or Stew
Soup (guk) and stews (jjigae) are also commonly served for Korean breakfast.
Some popular Korean breakfasts include:
A hot bowl of soup on a cold morning is a great way to start the day!
Kimchi
Kimchi, a fermented vegetable dish, is an essential part of Korean culture and you can find it at almost every meal, including breakfast.
The most common kimchi is made with napa cabbage (baechu kimchi.) There is also another popular type made with Korean radish (mu.) Traditionally people made kimchi at home but these days there are many good commercial brands.
Either way, many types of kimchi have the same seasoning: Korean red pepper flakes (gochugaru), garlic, ginger, sesame seeds, green onions, glutinous rice flour "porridge" and fish sauce, giving it its distinctive tangy and spicy flavor.
There are also some non-spicy kimchi which are not as common, such as dongchimi.
Note: Here are some dishes that go well with kimchi!
Banchan (Korean Side Dishes)
Banchan 반찬 refers to the dazzling array of side dishes that accompany a traditional Korean meal. They are often better than the main dish itself!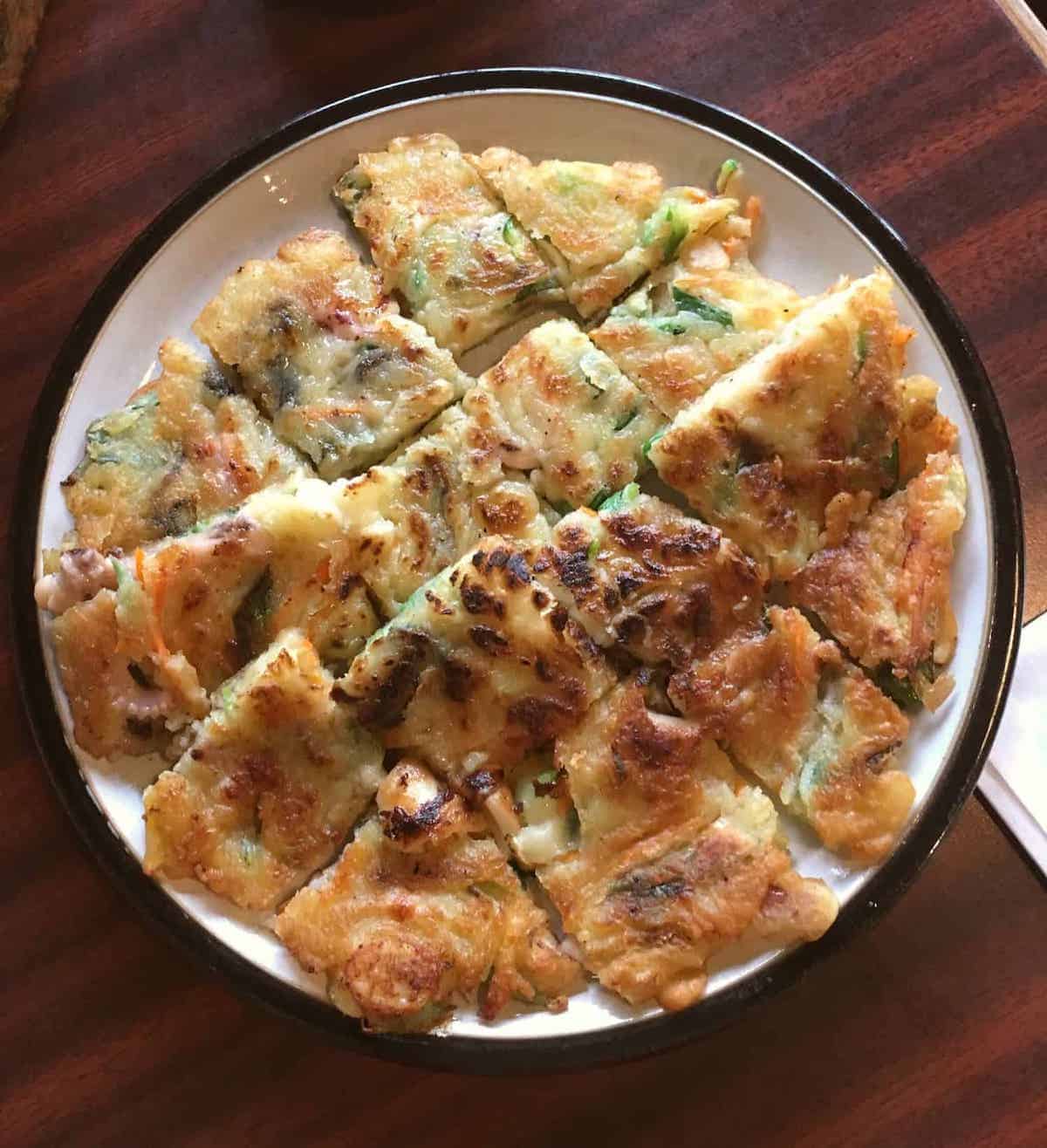 These side dishes can include roasted seaweed (gim), namul (seasoned vegetables), various types of kimchi, savory pancakes (jeon) and small plates of meat, egg or fish.
Many of these can last for quite a while in the fridge, making them great for meal-prep!
Some of my favourites include:
For those of you who like eggs for breakfast, you have:
Note: if you can't take chili peppers, try these non-spicy food in Korea.
Samgyeopsal
Samgyeopsal or grilled pork belly is usually eaten for dinner but, on special occasions, people do eat it for breakfast with rice, vegetables, and kimchi.
You wrap the pork in lettuce, kimchi and maybe some garlic and chili peppers and ssamjang- it's really delicious!
Modern
As with many places, everyone is super busy and many people don't have time to cook!
So, most younger people no longer have time to cook up traditional Korean breakfast dishes and instead eat street food or toast.
Toast 토스트
Korean street toast is a popular grab-and-go breakfast option in Korea. Many office workers buy it on the way to the office and have it at their desks.
It consists of bread slices filled with anything from an omelet and vegetables such as cabbage, carrot, and onion, to ham or other types of meat. (Koreans love SPAM!) Some versions may also incorporate a spread of flavored mayonnaise or ketchup for added flavor.
This hearty breakfast sandwich is a quick and cheap option that has a good mix of protein and carbohydrates to keep you energized throughout the day.
Kimchi Eggs
Another fast and easy option is a take on the European omelette: kimchi stir-fried eggs!
Kimbap
Another popular Korean snack is Korean sushi, or kimbap/ gimbap 김밥. I always buy some when I'm doing a day trip from Seoul and have an early start to the day!
If you don't have time to roll it the traditional way, you can make Kimbap Extraordinary Attorney Woo style, like a sandwich!
Delicious washed down with some hot soy milk 두유!
Sweet Potatoes
Roasted sweet potatoes are another popular snack food that people eat for breakfast, especially in winter!
You'll see many street stalls selling this aromatic but healthy and simple snack!
Rice Cake
Koreans love their rice cakes 떡!
This is another convenient snack food for a breakfast-on-the-go.
You can cook it at home or grab it from any of the numerous street vendors in Korea!
Instant Noodles
If you're too busy to cook up a typical korean breakfast, follow students and busy working professionals and make instant noodles! Ramyeon 라면 is 1 of the Korea's favorite foods.
Koreans do instant ramyeon so well, they make great souvenirs for friends and colleagues when you visit Seoul!
Which of these breakfast foods is your favorite? Personally, I can never say no to the traditional dishes!