Here is a list of the best day trips from Seoul for an unforgettable holiday in South Korea!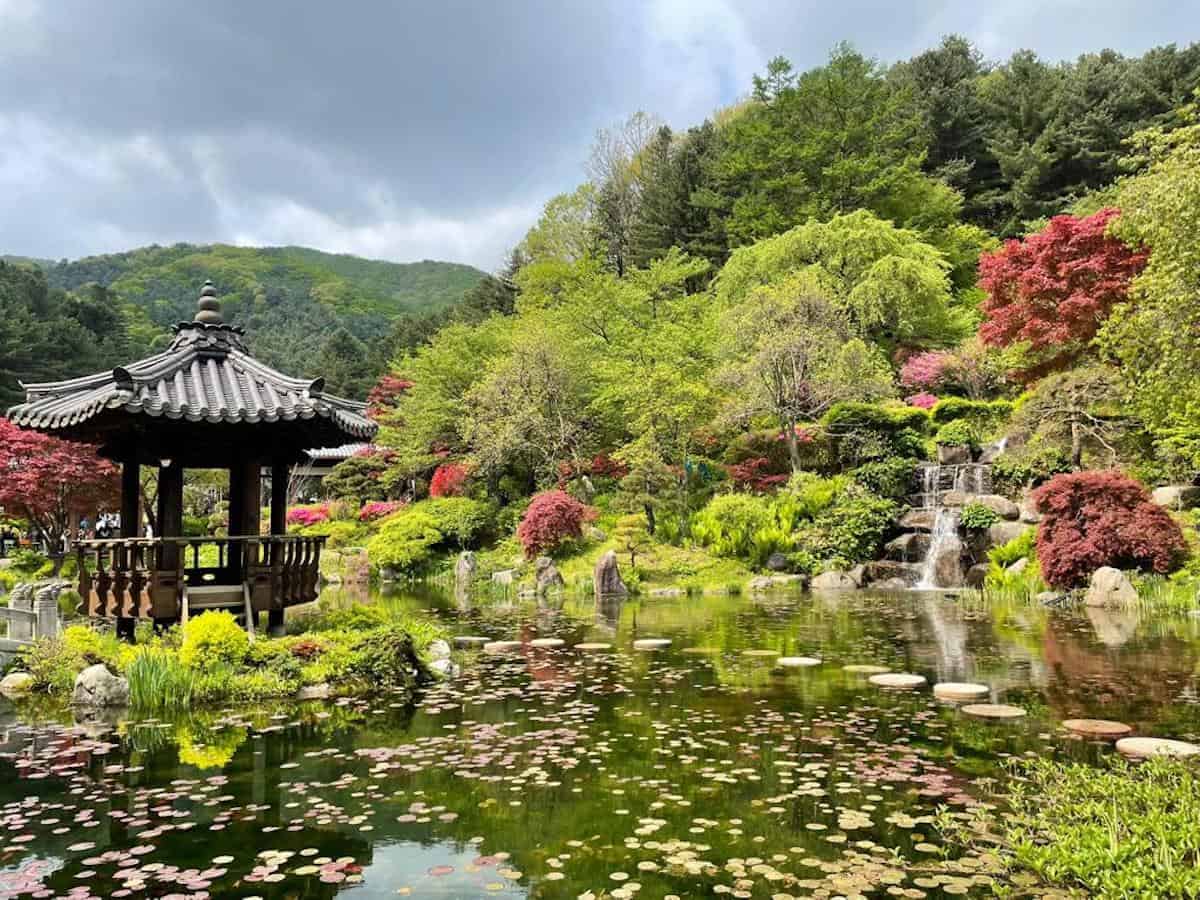 Jump to:
Although Seoul is amazing, it is also surrounded by fun places that are well worth a visit. If your Seoul itinerary permits, do consider taking a day to visit some of the neighbouring places that I've listed below! Day trips are even part of my 3 Days Seoul itinerary!
Suwon
Korean Folk Village
The Korean Folk Village in Suwon is an ideal location for exploring Korean culture and admiring Korean traditional houses and is part of most people's Korean itinerary.
Set on 990,000 square metres of land, with a beautiful mountain backdrop and river setting, the quaint folk village recreates life in the Joseon Dynasty. (Having water before you and mountains behind you is considered a good locaiton, according to traditional feng shui beliefs.)
Several hit Korean dramas were filmed here, such as Dae Jang Guem, 1 of the 1st dramas that sparked the Hallyu wave.
The Folk Village showcases authentic Korean architecture, traditional performances, and craft workshops and is a great place to learn about Korean history.
For example, the 270 hanok houses are real homes from the Joseon Dynasty that were relocated here from different parts of Korea. There are also 9 traditional craft workshops, where you can purchase traditional wares such as wooden goods, straw shoes and brass ware.
True to the time period, the village even has its own farm!
It is quite a comprehensive attraction.
There are traditional dance and music performances. Alternatively, you can even partake in interactive activities such as pottery-making, dying cloth or trying on hanbok, traditional Korean clothing. (The schedule of events changes according to the season.)
There is even a (non-historical/ modern) children's play village, with 15 different rides, such as bumper cars!
Fees: It costs between 22,000-36,000 won to enter, depending on whether you are a child, adult or senior.
Opening Hours: The village is open from 10 am but the closing day varies between 6-7pm, depending on the season.
Hwaseong Fortress
As both the folk village and Hwaseong Fortress are in/near Suwon, you may want to combine the 2 into a single day trip.
Suwon Hwaseong Fortress is a UNESCO World Heritage site. (Hwaseong translates to Brilliant Castle.)
Built in the 1790s, the impressive fortress walls span over 5.5 km and vary between 4-6m in height. Its four main gates, including Janganmun, the largest in Korea, offer visitors a glimpse into the country's rich history. It is also the best way to take in the view of Suwon city!
Besides hiking the walls, there also are interactive, historical activies to try, such as archery.
​For those who are less mobile, there is a 30-minute Hwaseong Trolley ride that will take you to the main points of the fortress. (Separate fee applies.)
Fees: There is a token fee of 1000 won.
Note: the fortress has quite a colorful history as the prince it is associated with, is said to have suffered from a mental illness and killed and raped many people.
Around Nami Island
There are several things you can do alongside Nami Island:
Garden of Morning Calm
Petite France
Gangchon Bike Ride
Nami Island 남이섬
Nami Island, located in Chuncheon, is a popular destination for nature lovers.
It is easily accessible from Seoul and is actually 1 of the most popular day trips from Seoul. (It's famous as Winter Sonata, 1 of the most popular Korean dramas, was filmed there.)
You will need to take a very short ferry ride to get to the island. More adventurous folks can even take a Zipline across!
The island is conceptualised as a "Fairy Tale Village and Song Village" and boasts beautiful tree-lined paths, perfect for taking leisurely walks or bike rides. (There are bicycles for rent on the island.)
However, to be honest, I found Nami Island a little bit overrated. (I do recommend it during the Korean summer though, as the trees keep you cool.)
Whilst it is beautiful, it is also packed with tourists, and all the noise and crowd detracts from the natural beauty. I would say, unless you are a huge fan of Winter Sonata, you may find yourself disappointed by the experience after the approximately 2 hour journey there.
How to get there
You can reach Nami Island by public transport from Seoul.
Alternatively, you can also book a tour that will take you from Seoul to Nami Island. This is usually combined with a trip to Petite France. (These usually start quite early so here are some quick Korean breakfast options for you.)
Pro Tip: since you're in Chuncheon, you have to try the dish Dak-galbi there! (My favorite Korean meal!)
Petite France
Petite France is marketed as a charming French-themed village that offers visitors a taste of European culture in the heart of South Korea. It has many Instagrammable spots and has also been featured on several K-dramas, such as "Running Man", "Secret Garden" and "You who came from the stars." (One of my favorite shows!)
The colorful village, situated near Nami Island, features European-style buildings, quaint shops, and restaurants serving French cuisine. There is also an Italian section in the village (extra charge to enter.)
However, I personally find it 1 of the most overrated day trips from Seoul! If you're in the area, sure, it'd make an interesting stop. But for almost 2 hours of travel time- not worth it in my opinion.
I would say this is something that maybe appeals more to the Korean aesthetic and may not resonate as well with Europeans/ people who have been to Europe. (It's kind of like a Disney theme park of Europe?)
Fees: From 6000-10000 depending on the ages of the guests.
Garden of Morning Calm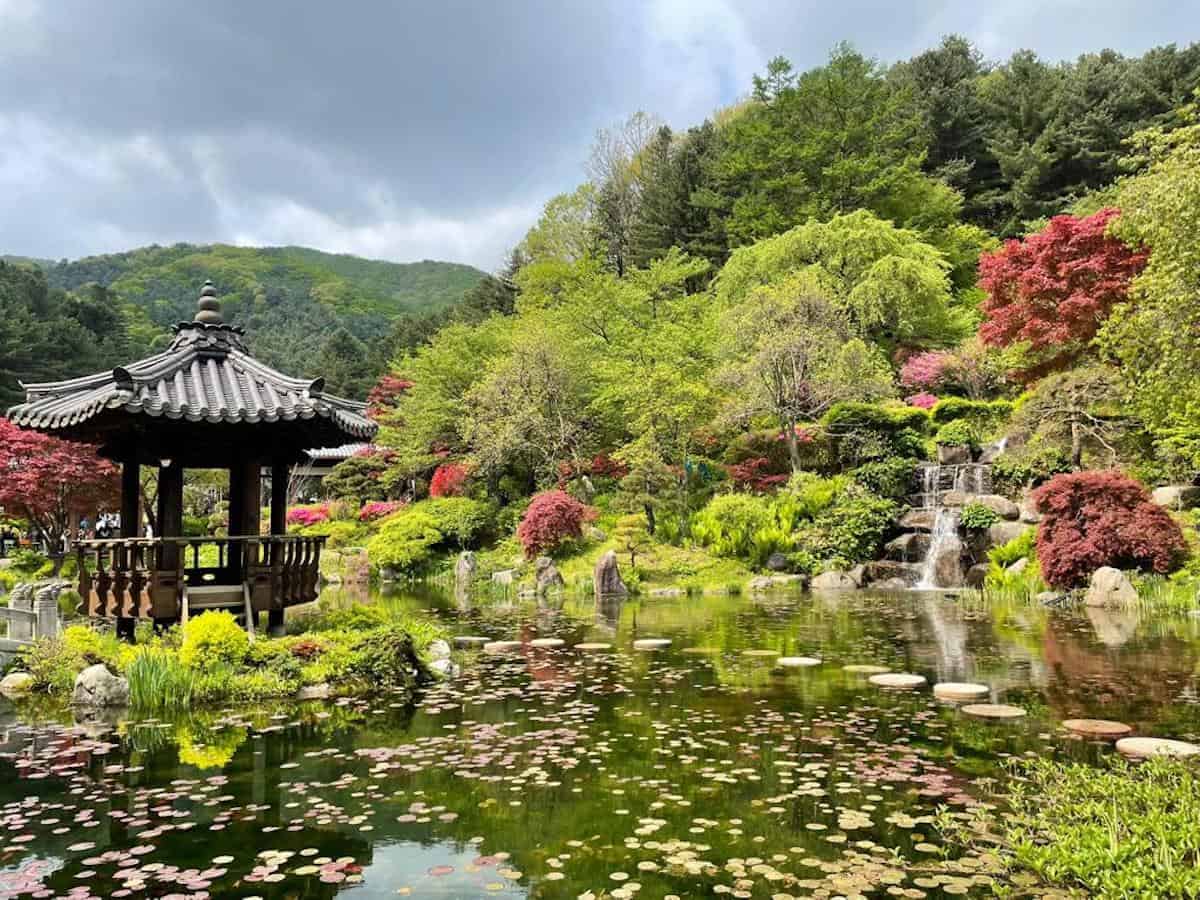 Much better is the Garden of Morning Calm, located in Gapyeong, which some tour operators also package together with a trip to Nami Island.
This private garden was started in 1996. It is extremely picturesque, with diverse flora in the beautifully designed gardens. I find it the perfect place to relax and enjoy nature, whilst admiring the seasonal blooms.
The best times to visit Seoul are spring and autumn, where the climate is the most welcoming and the colors of nature are gorgeous. The Garden of Morning Calm is especially beautiful during these seasons! Alternatively, there are also various flower festivals in the Garden throughout the year, depending on what is in bloom!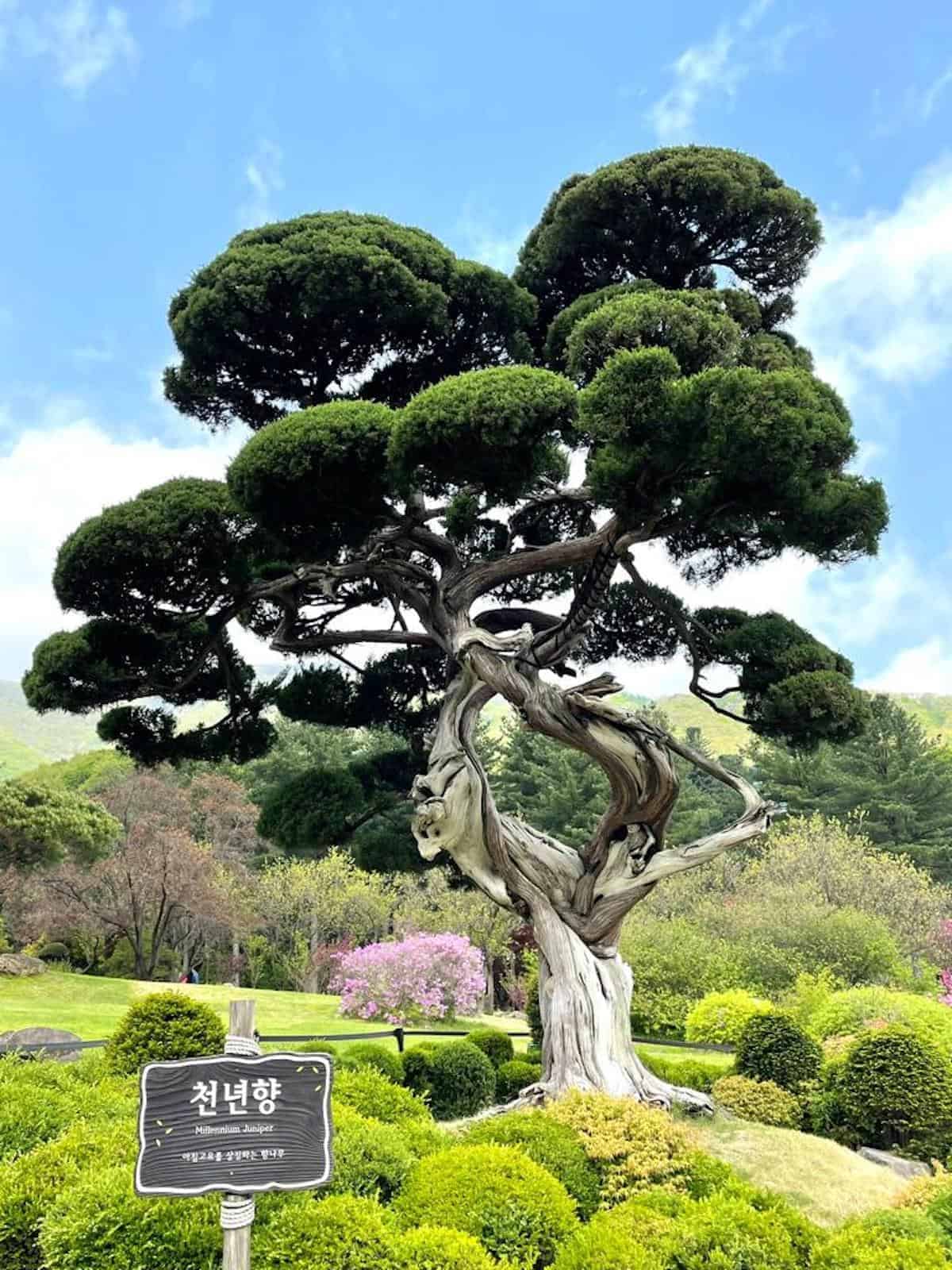 Fees: Admission Charges range from 6500-1100 won depending on the age of the guests!
Fun Fact: the name originated from the Indian poet, Rabindranath Tagore, calling Korea "The Land of the Morning Calm."
Note: I highly recommend grabbing a drink at the hanok-style cafe, from which you will have a beautiful view of the gardens!
Gangchon Rail Bike Park
Gangchon Rail Bike Park offers a one-of-a-kind experience for visitors looking for a fun and scenic day trip from Seoul.
It is so convenient, you can actually get here using the Subway line, although it will take you about 2 hours.
This recreational park uses abandoned railway tracks that have been converted into a biking trail- sustainability at its best! Guests pedal their way through picturesque landscapes of the Bukhan River and surroungind mountains.
On the 6km, 40 minutes ride, you also go through tunnels, and bridges on the rail bikes. (Don't worry it's not a very tiring ride.) The journey ends at Nanggu village, where you can use the loo and grab a bite. From the village, you will take a train ride back to Gangchon Rail Bike Station.
If you didn't have enough fun, rent an ATV in town and use it to explore! (Driving licence not required.)
All in all, Gangchon Rail Bike is a great way to enjoy the picturesque Korean countryside!
The rail bikes are available as both 2-seaters and 4-seaters, making it an ideal activity for both couples and families.
Fees: 35,000 won (2-seaters) an 48,000 won (4-seaters)
Note: Gangchon is SO much better than the rail bike ride in Jeju which unfortunately does NOT offer a nice view at all!
Gyeonggi-do
Note: Garden of Morning Calm and Petite France are also in Gyeonggi-do, but people usually visit them along with Nami Island, so I've included them in the second above and not here.
Gwangmyeong Cave 광명동굴
Gwangmyeong Cave is a pretty unique day trip destination near Seoul.
Once a bronze, gold and silver mine, it now serves as a cave theme park showcasing art installations, a wine cave, and an aquarium. The cave's cool temperature makes it a refreshing escape during hot summer months. (Korea is very hot and muggy in summer. I personally try not to visit during June-August. May is already hot enough for summer dresses!)
Visitors can also learn about the history of the mine and the various events that took place within the cave through a guided tour that runs every 30 minutes on weekdays and every 10-20 minutes on weekends.
There is also a light show on the weekends.
Fees: 6000 won
Note: the many steps can be slippery so make sure you have proper footwear! Do note that you can only pay by cash or Korean credit card here. (Foreign cards are not accepted.)
It's also not accessibility friendly (I don't advise going if you have a pram!)
Pocheon Art Valley 포천아트밸리
Another fascinating day trip from Seoul is the Pocheon Art Valley.
Once a granite quarry, it has been transformed into a cultural park that houses various artworks, sculptures and even a concert stage! I'm always amazed by how beautiful old granite quarries look!
Pocheon Art Valley has several walking trails from which you can enjoy picturesque views of the quarry's emerald-coloured waters. (Some can be very steep.) The view of the hills when sitting on the swings is particularly beautiful.
For those who find the climb up daunting, there is also a monorail and lift to take visitors up. (Do note the monorail has been known to break down!)
Note: it is closed on the 1st Tuesday of every month!
This attraction is more popular with local Koreans than foreign tourists and may not be to everyone's taste. I'd say you'd appreciate it best if you enjoy nature as well as art.
Everland Theme Park
South Koreans love their amusement parks.
A favorite among day-trippers from Seoul- it's about 3 hours away- Everland Theme Park is the largest amusement park in South Korea.
It has 5 zones, and boasts exhilarating rides for all ages to enjoy. 1 of the most famous is the T-Express roller coaster, Korea's 1st wooden roller coaster! It is also 1 of the world's fastest wooden roller coasters at 104km/h, with its steepest drop at 77 degrees and its highest drop at 46m.
Everland is a good attraction for families and a group of young friends travelling together. Even if you're not 1 for daredevil rides, you can keep yourself entertained at the Zootopia section, where you can take boat ride or feed animals.
How to get there
There is a bus to Everland from Gangnam Station (Exit 5, Bus #5200.) You will need to take it to the terminal stop then transfer to the Everland shuttle bus.
Fees: It's not cheap! Between 52,000-68,000 won per child/ adult!
Note: for something closer to home, you can try Lotte World amusement park in Seoul.
Paju Book City (파주출판도시)
LIterary enthusiasts may be interested in visiting Paju Book City, which is home to over 250 publishes and about an hour away from Seoul.
Built as a haven for book lovers and publishing professionals, this specially designed city is home to hundreds of book-related businesses, covering the entire Korean book production process. Businesses found there include publishers, printing presses, and bookstores.
There are also cafes where you can sit and read a book in the city, somewhat similar to Starfield Library at COEX in Seoul. However, Paju Book City can get quite noisy, so don't come here expecting a tranquil retreat!
Note: some shops are closed on weekdays and on holidays.
DMZ
The Korean Demilitarized Zone (DMZ), situated near Paju, is a historically significant location that separates North and South Korea. It's very popular with history buffs and people who want to find out more about the Korean War.
If you want to visit the DMZ, I highly recommend going on a guided tour. It will provide insight into the history between the 2 countries, as well as the ongoing tension. The tours also bring you to important sites such as the Third Infiltration Tunnel and Dora Observatory overlooking North Korea. Some tours may even involve a visit to the War Memorial.
Do note that there may be a long wait to enter some parts of the tour, such as the Control Zone. (The DMZ gets quite busy by mid-morning, so you may want to book the earlier tour.)
Incheon (Gyeonggi-do)
Incheon Chinatown 인천 차이나타운
Incheon Chinatown is a vibrant and colorful area that showcases the fusion of Korean and Chinese culture.
Established in the late 19th century, it's the largest Chinatown in South Korea, where you can find mostly restaurants serving Chinese cuisine. The store owners are usually 2nd or 3rd generation Chinese Koreans.
However, to be honest, as a Chinese Singaporean, I must say I'm not a fan of Korean Chinese dishes, such as jajangmyeon or tangsuyuk. I much prefer real Chinese food, or traditional Korean food. Having said that, maybe I just haven't eaten at the right places!
You can wander through the lively streets lined with red lanterns and traditional Chinese-style buildings, marvel at the stunning murals, as well as visit landmarks such as the freedom park (Jayu Park/ McAurthur Park) and the Chinese-Korean cultural museum.
Note: there is even a Jajjangmyeon Museum 짜장면박물관!
Songwol-Dong Fairy Tale Village (송월동 동화마을)
For those who enjoy whimsy and color, or taking photos for the Gram, the Songwol-Dong Fairy Tale Village in Incheon is another possible day trip from Seoul.
It is named for the view of the moon between the pine forest but do note that some people love it, whilst others find it meh.
It is a brightly painted neighborhood that offers visitors the opportunity to explore its small alleys and take photos with various murals and sculptures inspired by famous fairy tales and cartoons. (Somewhat similar to Gamcheon and Huinnyeoul Culture Villages in Busan.)
The area is full of unique and quirky details, making it a fun place for kids to stroll around and discover the different art installations. Visitors can also find charming cafes and souvenir shops in the area but do check that they're open before you visit!
Note: It's close to Incheon Chinatown and there are no entry fees!
Muuido Island 무의도
If you think you have to travel to Busan or Jeju Island to visit a beautiful beach, think again! Incheon also has beautiful beaches, such as the ones on Muuido Island.
It is an idyllic island near Incheon that is a popular place for people to go to beat the heat in the summer. (A bridge was built in 2019 connecting it to the "mainland" so it's technically not an island anymore. (You also do not need to take a ferry across!))
Known for its pristine beaches, such as Hanagae Beach (하나개해수욕장), you can dig for your own seafood in the fine sand. There are also a few restaurants nearby.
There are even (very small) beach cabins for overnight rental for 40,000-50,000 won (depending on the season. You need to pay in cash.)
Fees: 1000/ 2000 won for kids/ adults
Fun things to do: There is a 550m wooden boardwalk at the southern bit of Hanagae Beach. Or if you're feeling more adventurous, try the zipline!
​Note: if you're used to travelling in Europe, you may be surprised to find that parts of nature in Korea, such as islands and forests, are ticketed. Here are some more things you should know before you visit Korea!
Jeollabuk-do
Jeonju Hanok Village (전북 전주 한옥마을 [슬로시티])
Jeonju Hanok Village, or Slow City, is a beautiful place to experience traditional Korean architecture and culture. It is a great day trip for history lovers. However, if you have more time, I think this charming village really deserves 1-2 days of your time!
Fans of Insa-dong, Bukchon-dong and Ikseon-dong in Seoul will definitely enjoy this charming village!
Home to 735 traditional Korean houses known as hanok, the village is pretty much a living museum in which visitors can immerse themselves in the rich history of Korea. When you walk through the charming streets and narrow alley, you'll feel like you've gone back in time!
For shopaholics, you can also find unique shops selling handicrafts and traditional items.
Most importantly, don't forget to indulge in delicious Korean cuisine at the local restaurants. (Jeonju is considered the food capital of South Korea.) A must-try dish is Bibimbap, which is said to have originated here.
Note: outside of the Hanok Village, the rest of the city has been modernised.
The hanok village is not very close to the train station, if you're thinking of taking the train from Seoul.
I recommended taking the shuttle bus between Seoul and Jeonju instead. It leaves at 8 am from Seoul Station and returned 8 pm on the same day. (You'll need to book 3 days before you want to leave, unless there are unsold spaces on the day of departure.) For US$10, I think it's well worth it!
Tip 1: If staying overnight, book yourself into a traditional Hanok guesthouse, where you can experience the authentic traditional Korean lifestyle.
Tip 2: It is (obviously) most crowded on the weekends, with Mondays-Wednesdays usually being the least congested.
Gangwon-do
Alpaca World 알파카월드
If you are an animal lover or have young children, then a visit to Alpaca World, which spans over 100,000 square feet, is something to consider.
Located in Hongcheon, this unique theme park is home to over 200 alpacas from South America, all free roaming within the park's enclosure. Visitors can hand-feed these gentle creatures or take part in an interactive walking tour with them. (The feed is sold at vending machines on the property for 1000 won.)
In addition to alpacas, the park also has other animals, such as rabbits and deer, which can also be fed.
Fees: free if you're under 3. If not, it's between 12,000- 15,000 won. Walking and feeding of alpacas are additional charges.
Note: you can also do animal feeding at Seoul Forest, if you don't want to travel so far. In my opinion, Seoul Forest is 1 of the most underrated places in Seoul!
Hiking in National Parks
Koreans love to hike!
Seoul and its surrounding areas offer several options for hiking in national parks. 2 of the most popular parks for day trips are Seoraksan National Park and Bukhansan National Park
Seoraksan National Park 설악산 국립공원
Seoraksan National Park, one of South Korea's renowned national parks, attracts hikers and nature enthusiasts alike. (Seoraksan translates to Mount Seorak.)
It is over 2 hours by bus from Seoul- more if you get caught in a traffic jam!- but the majestic peaks, lush forests, and rugged cliffs make it worth it. There is also a 6-minute long cable car ride, if you're feeling lazy, but do remember to get tickets in advance. Seoraksan National Park is known for its stunning mountain landscapes and beautiful foliage, especially during autumn, so it can get really crowded!
There are also ancient temples in Seoraksan. Sinheungsa Temple is located pretty near to the entrance of the National Park. It dates back to the 500s and has a huge, 62-feet tall bronze Buddha known as Tongil Daebul tower on its grounds.
Bukhansan National Park 북한산 국립공원
If you don't want to spend too much time commuting, try Bukhansan National Park instead. (Less than an hour from Seoul city centre!)
It is located within the city limits of Seoul, towards the North, and is another popular destination for hiking enthusiasts. The park is actually named as the "Most Visited National Park per Unit Area" in the Guinness Book of World Records!
It has very scenic views of lush forests and rugged terrain, well-maintained trails, as well as historic Buddhist temples and forts. (Guknyeongsa Temple or The Golden Temple is famous for its golden Buddha.)
There are different hiking trails, from Easy to Advanced. In the winter months, the trails can be super slippery, so do make sure you have the right footwear and supplies!
Note: this is 1 of the free things to do in Seoul!!
Travel Tips
Accommodation
If you're not sure where to stay in Seoul, click through here! I also review the 5-star hotels in Seoul here.
Public Transportation
Seoul offers an extensive and efficient public transportation system, making day trips quite convenient.
The city's subway system is an affordable and reliable means of transportation to various attractions. There are also regular local buses. However, it's definitely easier to take the subway than bus in Korea!
If you plan to travel by public transport often, I recommend purchasing a T-money card.
The re-loadable card can be used for both buses and subways. You have to pay for the card but you can save some money when you transfer, up to 4x a day, assuming the transfers are done within 30 minutes of each other. (Remember to tap when you get on and when you get off the bus!)
Tip: Refunding more than 50,000 won is a painful process so don't load up too much at 1 time! (You can re-load at convenience stores which are, well, very conveniently located everywhere in Korea!)
If traveling to destinations outside the city, you may want to take the KTX or ITX trains, i.e. high-speed options that connect Seoul to various regions across the country such as Busan. These trains can significantly reduce travel times and provide a comfortable experience.
Tip: note that you cannot book KTX using a Safari (on its default settings) as the pop-up to enter your credit card information is blocked. Switch to Chrome and there'll be no issues.
Travel Insurance
It's always a good idea to invest in travel insurance when travelling abroad.
This ensures that you are financially protected in the case of unexpected events, such as accidents, illness, or theft and gives you peace of mind.
Let me know if you decide to take any of these day trips from Seoul and, if so, which was your favorite! For recommendations on the best apps to download for a trip to Korea, click here!