Seoul is a humongous city so where you're based has a huge impact on your trip. Here are my top recommendations for where to stay in Seoul, after having been there about 10 times!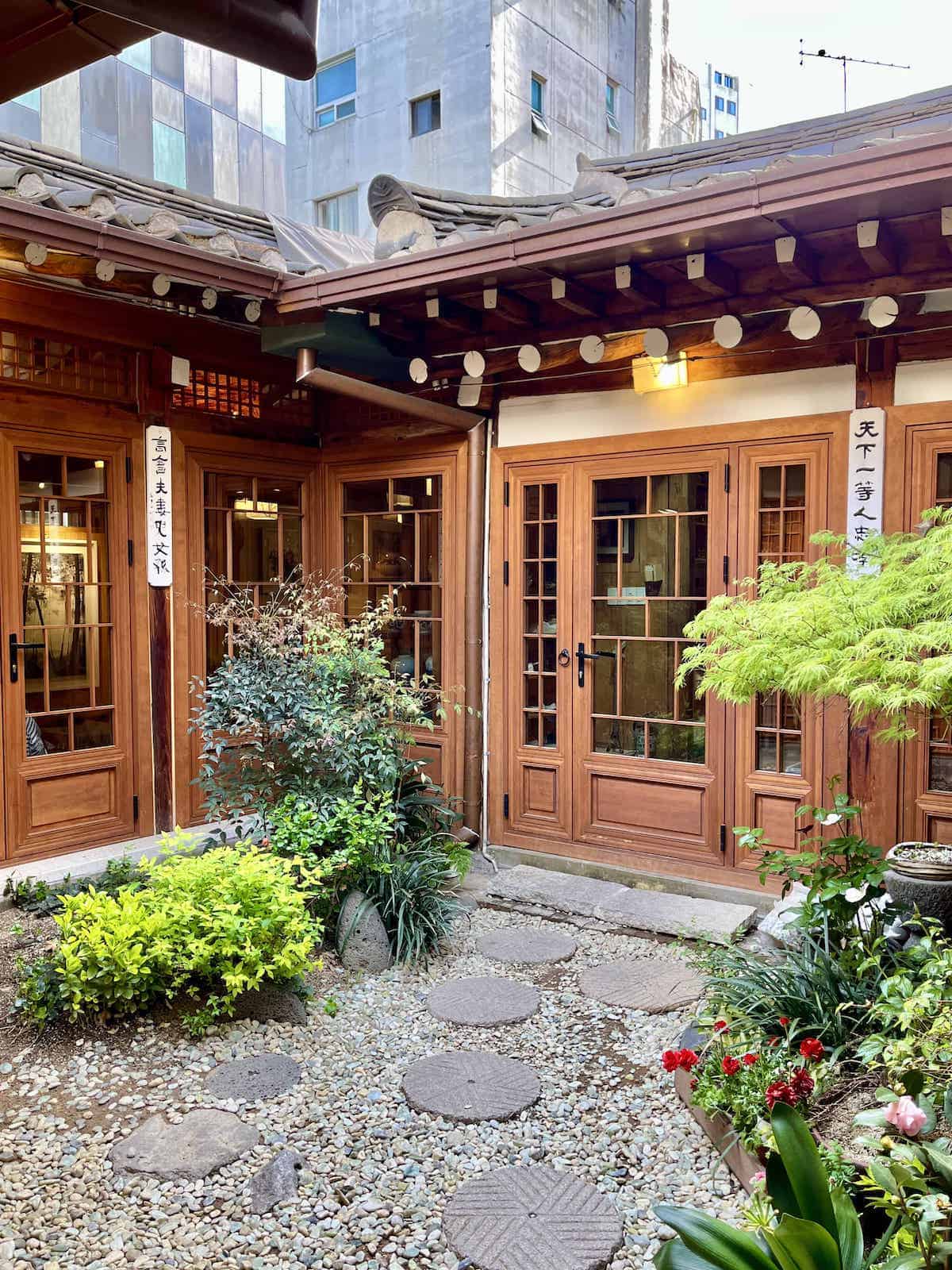 Jump to:
Many people are surprised by what a large city Seoul is. It can take over an hour to get from 1 place to another!
And that's not factoring in the traffic jams, which can be pretty bad.
Hence, when planning a trip to Seoul, selecting the right neighborhood to stay in is essential. If not, you'll be wasting a lot of time getting around!
Of course, where to stay in Seoul would also depend on your itinerary in Korea and what you want to do during your holiday!
This modern and vibrant city in South Korea has several districts, each with unique features and atmosphere. Here are some of the best neighborhoods to consider when planning your trip to Korea, based on my personal experience, whether you're in Seoul for 3 days or longer:
North of Han River
Myeongdong
Myeongdong is an excellent choice for first time visitors, as it is located in the heart of Seoul's city center.
I've stayed here maaaaany times.
Shopping
If you love to shop, this is definitely the best area for you. The neighbourhood is a shopper's paradise.
There are rows of souvenir and skincare shops all packed together in 1 area, in between a few metro stations (so it's easy to commute to/ from.)
Moreover, many shops are equipped to give you back your tourist rebate on the spot. (You have to spend over 30,000 won to qualify which, trust me, is not hard! You'll also need your passport on hand.)
Besides these standalone shops, you can also find Lotte Department Store, Shinsegae etc here.
Tip: Tax refund at Incheon airport is a PAIN so I highly recommend doing the on-spot refund.
Eating
There are also plenty of restaurants and street food stalls to explore in the area. Whether it's street food or a fancier restaurant, Myeong Dong has you covered!
Unfortunately, the street food at Myeong Dong is more expensive than at other places and it generally does not taste good! For example, the hotteok at MyeongDong is 2000 won- not expensive, but it's only 1000 won at Insa-dong, which is only a short walk away!
The restaurant food is decent though.
Tip: I highly recommend Myeongdong Kyoja 명동교자. It has a Michelin Bib Gourmand and the food is inexpensive and good. My favorite is their Kal-guksu Noodles! Their cold noodles, unfortunately, are much too spicy for me. (Here is a list of non-spicy food options in Korea if you can't take spice!)
Sights
Myeongdong shopping street is also close to City Hall, Namdaemun Market, Mt. Namsan and the iconic N Seoul Tower for those who want to do some sightseeing in the area.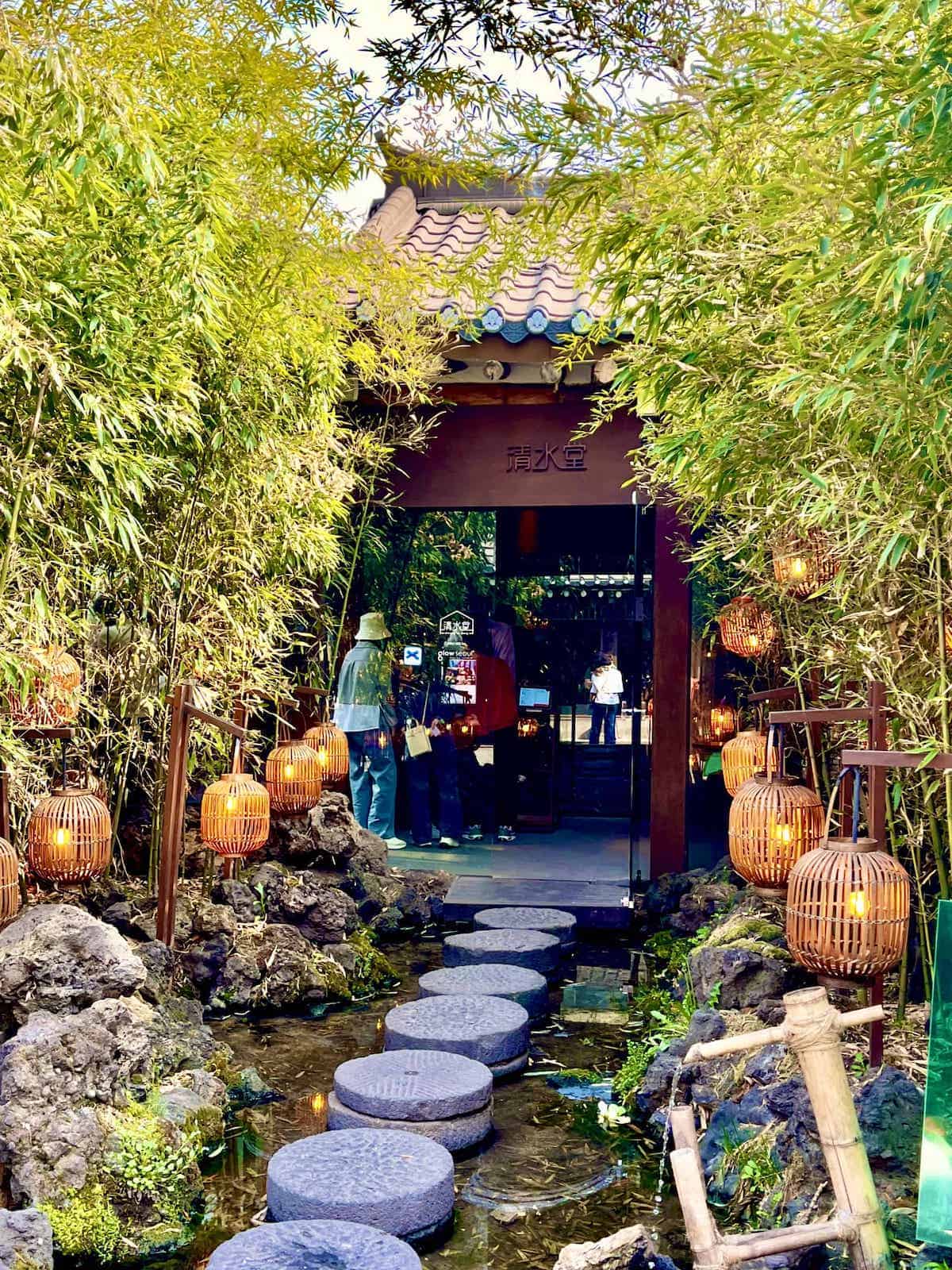 You're also walking distance to the traditional Korean villages, Bukchon Hanok Village, Insa-don and Ikseon-dong.
As mentioned, there are several subway lines for Myeong-dong, so it's super easy to commute to and from the area if you want to see sights that are located elsewhere in Seoul. (Taxis are also cheap.)
Note: if you want to do day trips from Seoul, Myeong-dong is a good place to stay as it's near Seoul Station, where many of the train journeys start from (such as the one to Busan.)
Accommodation
If you want to stay in a 5-star hotel, the area around Myeong Dong will provide you with lots of options. (Click here to find out more about the best hotels in Seoul.)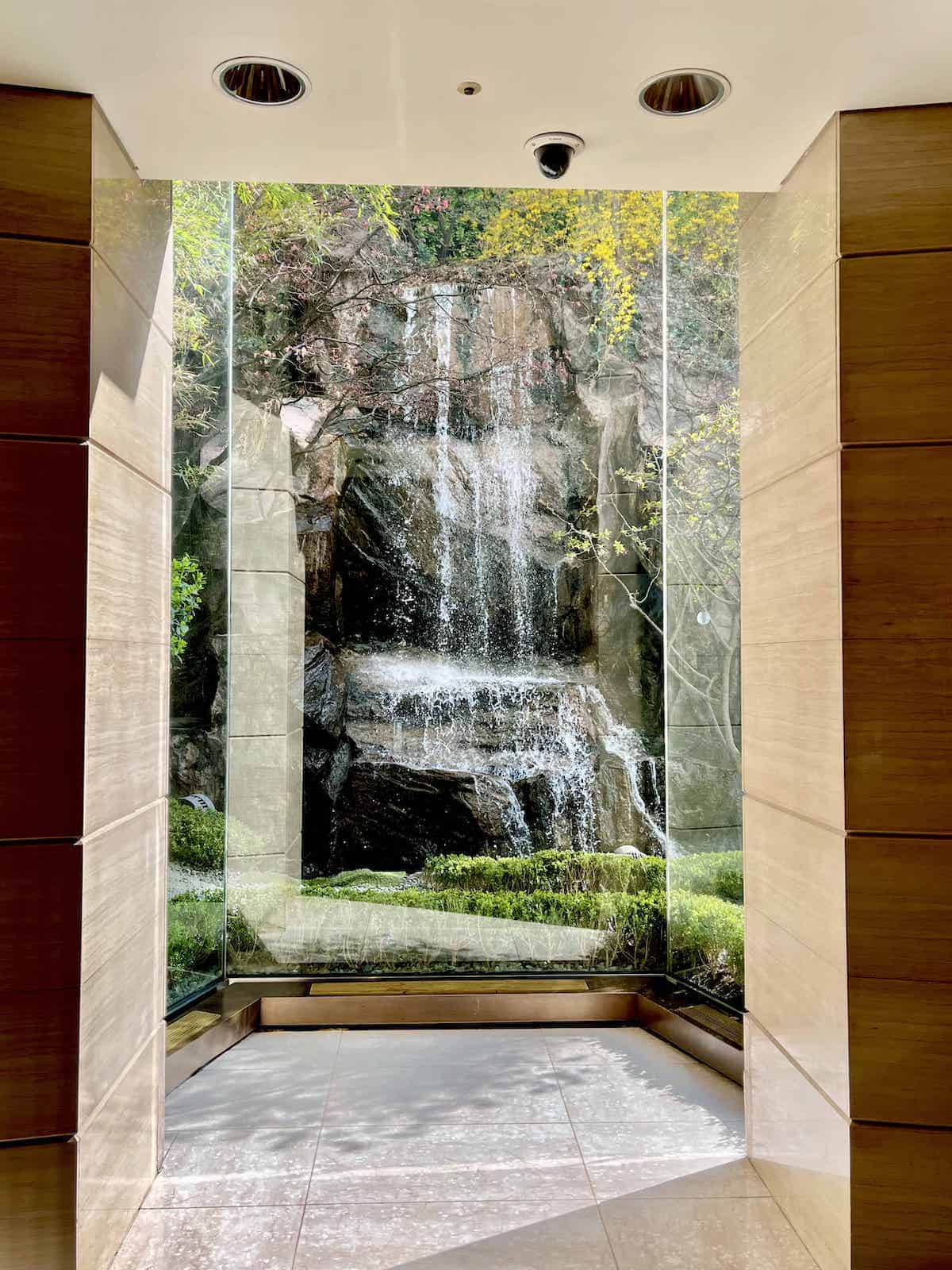 My favorite Myeongdong Hotel when travelling with family is Lotte Hotel Seoul as it's super convenient and you can get large, modern rooms in the executive tower. (You pay more for more space obviously!)
For solo travellers, such a large room is nice but an unnecessary expense so there are cheaper alternatives. When I travel alone, find Lotte City MyeongDong Hotel quite a good base- I like that it has a laundrette, for one!
There are also many more affordable but decent hotels and hostels. Pre-COVID, I used to stay at Ibis Ambassador all the time. The location is actually even more convenient for cheap shopping as you're on the same side of the road as Myeong Dong Shopping Street. (This is in comparison to Lotte, which is on the other side of the road.)
Note: I've stayed in places ranging from a $10-a-night hostel to a love motel to the best Seoul hotels! However, this blog is about comfort travel, so I'll mostly be reviewing 5- and 4-star hotels.
Tip: Many hotels have airport buses from Incheon International Airport stoppping near/ just outside them. I usually choose 1 of these to stay at!
Cons
The only downside is that Myeongdong is SO touristy, it will feel like you are surrounded by more tourists than Koreans!
If you're looking for something less touristy, you can stay South of the river at Gangnam but it's more difficult to get around there (as the area is so spread out. More on this below.)
Insadong
Insadong is another great neighborhood to consider while visiting Seoul. It's a popular destination for tourists, and its central location makes it easy to get to most of the main tourist attractions.
Note: It is actually really close to Myeongdong! You can take a bus or train between the 2 places but I usually walk.
I personally love this artsy area with all its traditional hanok houses and visit every time I'm in Korea. (Another good place for traditional architecture is Bukchon, which I'll cover below.)
Shopping
It is known as a great place to experience traditional Korean culture, art, and antique shopping. The main street can feel a bit kitschy, with all its souvenir shops, but look carefully and you'll find many interesting local art galleries. (If you're looking for the best souvenirs to bring back from Korea, click here.)
Don't expect any large department stores though!
There's only 1 skincare shop in this area, Nature Republic. But you can always head over to Myeong Dong!
Tip: I highly recommend wandering through the side streets, which is where you'll find gems like beautiful Korean traditional teahouses.
Eating
There are many restaurants in the area. Sad to say, most of the meals I've had here have not been good.
However, I definitely recommend having tea at 1 of the many traditional teahouses in the area!
The street food is not bad too.
Note: In fact, the WORST meal I had in Korea OVER 10 TRIPS was at the temple restaurant in Insa-dong. (The food took over 4 hours to arrive and, when it finally arrived, was cold and greasy. It took so long, many people walked out before finishing the course meal! We also gave up on the dessert course as we didn't have all day to hang around!)
Sights
You can walk to popular sights such as Cheonggyecheon Stream, Bukchon-dong and Ikseon-dong, easily.
There's also Anguk Subway Station at the start of the Hanok Village, so you can easily get to other tourist attractions using public transportation.
Tip: there's a free guided tour of Cheonggyecheon Stream that you can book!
Accommodation
The only thing to know is that there aren't really any good options for 5-star hotels from international chains in Insa-dong. There are quite a few budget accommodation options, but that's not the focus of this blog!
Bukchon Hanok Village
Another good option for those who want to experience traditional Korean living is Bukchon Hanok Village, where you will find many traditional Korean houses.
Shopping
Many have been turned into galleries, cafes and shops, making the area a really fun place to have a wander!
If you're looking for a handmade souvenir or some artwork, Insa-dong and Bukchon are good places to hunt around.
There's also a Sulwahsoo store at Bukchon but, other than that, it generally has more independent stores than chain ones. (Yay!)
Tip: you can even make your own mother-of-pearl item at Bukchon. I ended making waaaaay too many things (like 3 coasters- which cost 30-40k won each!!!- and a small jewellery tray.....)
Eating
There are many cool cafes and restaurants in the area.
I really liked the Soondubu Jjigae at Jaedong Sundubu
Tip: If you like cooking, you can also take a kimchi making class at the Kimchi Academy. I did the Professional Kimchi Class there. (It was fun, but definitely not a professional course!)
Note: it's a residential area, so do be respectful of the residents privacy and don't make too much noise!
Accommodation
Like Insa-dong, you won't find any large hotel chains here.
However, in my opinion, it has something even better: traditional Korean guest houses! My favorite place to stay in the area is Rakkojae.
Tip: Note you must be fit enough to get up from the floor if you want to stay there as you'll be sleeping on the floor! Also, you'll have to book in advance as they have very few rooms (5 if I remember correctly.) Each is different, with a charm of its own. I particularly like the Patio Room!
Rakkojae has recently built a 2nd hanok guest-house so make sure you tell the taxi driver the correct address!
Hongdae
Hongdae is a lively University neighborhood known for its vibrant youthful vibe, Indie music, and nightlife.
Like Myeong Dong, it's got lots of shops and restaurants but is slightly less touristy. If you love music, Hongdae is the place for you to stay at. Besides shops and restaurants, you can also find lots of clubs, bars and live music venues.
This was actually the 1st area I stayed at when i visited Seoul for the first time in 2010 and I enjoyed it tremendously.
Eating
You can get almost everything here!
Accommodation
There's L7 Hongdae, by the Lotte group. It's meant to be a 4-star hotel (and is not cheap) but when I stayed at L7 Gangnam, there was no room service and the rooms didn't offer complimentary tea! (Only coffee.)
In addition, as per all Lotte hotels, you won't get a free toothbrush and toothpaste (which eve Korean motels usually provide!)
Note: If you want to try something slightly different, Yonsei University has rooms that it lets out! It does quite a good Korean breakfast actually!
Itaewon
Itaewon is another neighborhood well-known for its nightlife. It's known as the foreigners district in Seoul, making it an excellent option if you want a more diverse experience.
In addition, it's positioned in-between Myeong Dong and Gangnam, so it's a good middle ground to stay at if you will be spending a lot of time in both places. (If not, they can be over an hour apart by car.)
Eating
The has a wide range of international cuisine, bars, and clubs.
Note: I highly recommend the 3-michelin starred Mosu. It has great food, a great ambience and is pretty reasonably priced for a 3-star restaurant! I really enjoyed the Abalone Taco and Popcorn Rice!
Accommodation
After Myeong Dong, Itaewon is probably the 2nd best area (north of the Han River) if you want to stay in a larger chain hotel.
South of the River
Gangnam
Gangnam is a trendy and posh district in Seoul, south of the Han River. It's best known for being featured in the song "Gangnam Style" by Psy.
However, I would not recommend Gangnam for 1st time visitors to Seoul who want to visit the main tourist attractions such as Gyeongbokgung Palace as it is quite far away.
Moreover, if you prefer to be walking distance to the shops, you'll have to consider carefully before choosing Gangnam. The area is extremely spread out, and you'll most likely have to cab or take the subway line to get around. (This is unlike Myeongdong and Insadong, where it's a short walk to many things.)
It took me 2-3 hours to walk from COEX mall to Garuso-gil!
However, if you prefer to stay somewhere that is less touristy (i.e. where you'll hear fewer people speaking English and more speaking Korean!), then you should consider Gangnam.
Tip: choose a hotel near Garosu-gil, if you want to be nearer independent shops.
Accommodation Options
Seoul offers a wide range of accommodation options to cater to travelers with different preferences and budgets. From regular hotels, luxury hotels, boutique hotels to Airbnbs, and Hanok stays, there's the perfect place to stay for everyone!
Luxury Hotels
Seoul is home to several luxury hotels, such as Four Seasons, Josun Palace, Shilla and Lotte. (Click through for my review of the different places.)
These high-end hotels offer top-class services and amenities for travellers seeking a more indulgent experience, such as luxury dining options, spas, and panaromic city views.
However, they're slightly different from international 5-star hotels as you sometimes have to pay to access certain facilities that are usually free overseas. For example, using the pool and spa in some 5-star hotels is charge-able!
Note: most hotel spas are quite small and book up fast so you'll need to reserve quite a bit in advance! I tried to make a booking more than a month ahead and the Sulwahsoo Spa at Lotte was full!
Boutique Hotels
Boutique hotels offer a more personal experience for travellers who prefer smaller, more intimate settings.
1 thing I'm not a fan of at Lotte Hotel is that it's so big, it can feel like a package tour hotel! With a botique hotel, you won't get that feeling!
Note: you may struggle to converse with the hotel staff. Although I'm all about immersing myself when travelling overseas, it can be taxing when you can't even get a cup of water at your 5-star hotel!
If you want to stay somewhere the English is of a higher standard, go for an international chain. The staff at a 3-star Marriott hotel (Fairfield) and Ibis Ambassador were MUCH more fluent than the staff at the 5-star Signiel!
Budget and Mid-range Hotels
There are many budget-friendly hotels in Seoul, such as Holiday Inn Express Seoul Hongdae, which is conveniently located above a subway station, making it easy for first-time visitors to get around.
Another option for an affordable stay in Myeongdong is Nine Tree Premier Hotel Myeongdong 2, situated close to Euljiro 3-Ga Subway Station.
Note: there are several Nine Tree Hotels so make sure your taxi drops you at the right one!
Airbnbs
Airbnb offers a variety of accommodation options, from private rooms (in a shared house or pension (Korean guesthouses)) to entire apartments, allowing travelers to enjoy a more local and authentic experience.
Seoul has numerous Airbnb listings that cater to all types of budgets and preferences.
However, I usually prefer to stay in better hotels when visiting Korea due to its molka (hidden camera) issues. (It is not uncommon for people to hide cameras in public spaces in Korea. Freaky!!)
Hanok Stay
For those who want to really immerse themselves in traditional Korean culture, a Hanok stay is good fun!
Hanok refers to traditional Korean houses, and there are several guesthouses in the Insadong area that offer this unique experience. A great place to try a hanok stay is Jeonju, which is an easy train ride from Seoul!
Note: some hanok stays are quite basic. I stayed in 1 in Gwangju where the door was made of wood and paper, and the lock was a spoon! Well, it is traditional I guess!
Hope this has helped you decided where to stay in Seoul. If you have any questions, feel free to leave a comment!