Summer in Seoul is hot and humid. You may be wondering why anyone would visit then! However, there are many fun festivals in summer in South Korea! Here's the ultimate guide to Summer in Seoul, South Korea!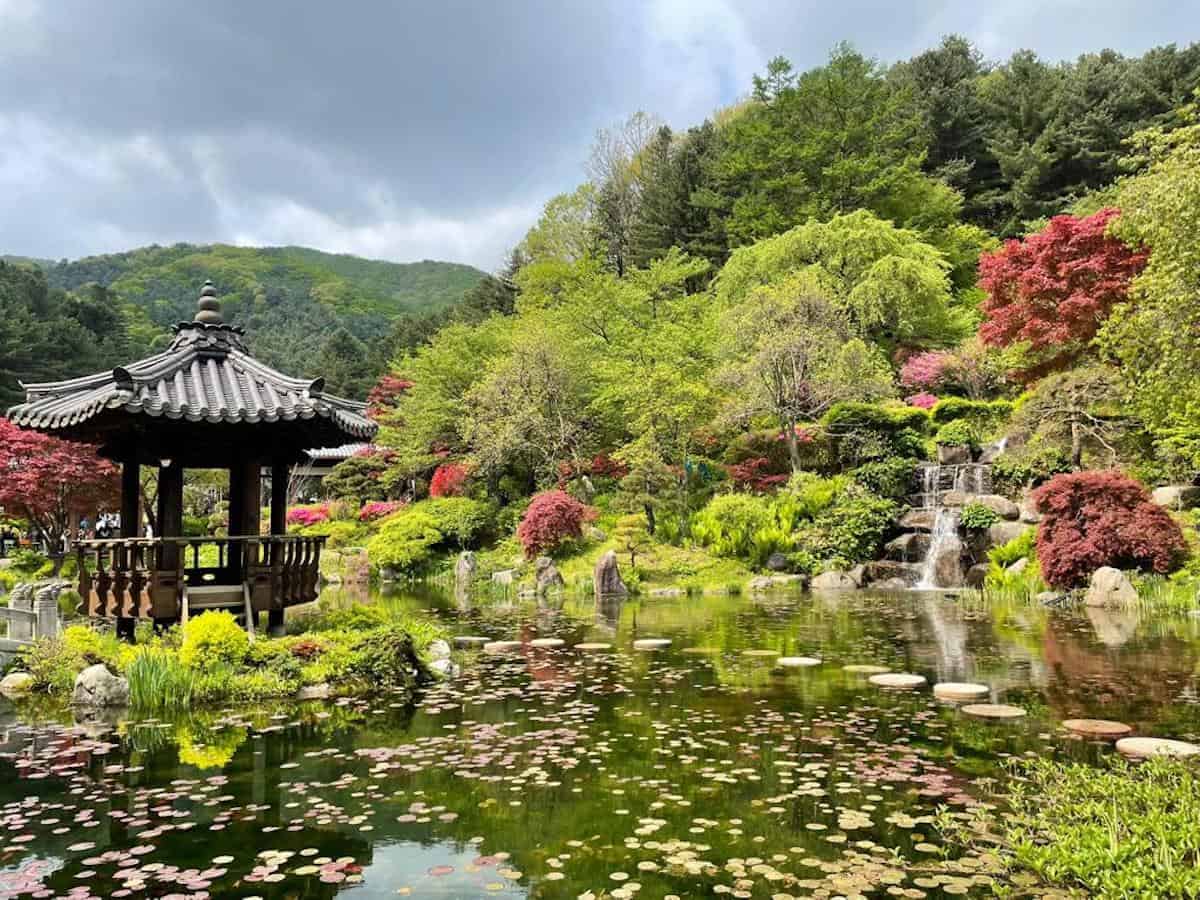 I'll be honest.
I try NEVER to be in South Korea during the months of June to August because the weather is simply too punishing for me (someone who grew up in the tropics): it's hot, humid and much too sunny!
I guess it's just me though, as summer is one of the most popular months for tourists to visit Seoul!
However, I must admit there are a lot of fun summer activities in Seoul, so if you're headed that way, here are some top tips to help you beat the summer heat, as well as a guide to the best things to do in the summer months!
When is Summer?
Summer in South Korea starts around June and ends around August:
June is hot and humid. (To be honest, it's pretty hot in May already but still tolerable then.)
July and August are hot and humid but it's also monsoon season, so it's often pouring with rain! (July is the wettest month, with approximately 13 days of monsoon rains as opposed to June's 6 days.)
Temperatures in the summer season often soar above 30°C (86°F)! The average temperature is 27-29C in the day and 17-21 at night.
By September, the weather is quite pleasant so I recommend visiting then if you can. (Or in October, one of the best times to visit Korea, as there's the most magnificent fall foliage!)
The bright side is the air is less polluted than it is during spring, thanks to all the rain!
Expert Tips
From Incheon International Airport: the best way to the city from Incheon, in my opinion, is the airport limo bus! Inexpensive with comfortable seats!
Protect your skin with sunscreen: since you're in Korea, take a leaf from the Koeans and top up on sun protection! Korean sunscreens are pretty good too, so why not buy a bottle or 2 for sunny days?
Stay shaded: luckily the Koreans are fanatical about staying out of the sun. There are even large umbrellas at traffic lights to protect you!
Bring a summer capsule wardrobe: Korean summers are hot and humid. To stay comfortable, pack lightweight and breathable clothing made of natural material such as cotton. Opt for loose-fitting dresses, comfortable shorts or skirts, and lightweight tops to keep cool. (I would personally stay away from trousers, unless going to an event or a restaurant with a dress code! You can follow the same principles of packing for Singapore, as the weather in summer is similar. Just remember that Koreans dress a bit more smartly than Singaporeans do, and are more judgmental of others' dressing!) But remember to bring a light cardigan or shawl for places where the AC is too cold, or for the cooler evenings. If you want to blend in and respect Korean culture, don't bring anything that is too low-cut. Traditionally, Koreans don't seem to mind super short skirts and shorts, but shy away from revealing too much cleavage. (They usually wear shirts under spaghetti straps!) Also, don't forget to pack a wide-brimmed hat, sunglasses, and sunscreen to protect yourself from the scorching sun!
Hydrate: bring a reusable water bottle, especially if going hiking (one of Korea's favorite activities), as there are water fountains to refuel along the way.
Buy a portable mini fan: this seonpunggi will be a life saver when taking public transport. Although I would pick the bus or train over walking during a summer day, try not to travel during peak hour as it'll be super hot and crowded. (Taxis are not expensive in Korea by the way! For more South Korean travel tips, click here.)
Plan Your Day Wisely: Seoul has a lot to offer, but it's essential to plan your activities wisely during the summer. Start your day early to make the most of the cooler morning hours. During this time, visit outdoor attractions such as Gyeongbokgung Palace and Bukchon Hanok Village before the heat becomes unbearable. Save indoor museums and shopping in air-conditioned malls for the afternoon when the sun is at its peak!
Learn a bit of the Korean language: you don't have be fluent but it will help! Many Koreans, especially outside Seoul, don't speak English. (Either that, or download Papago! Here's a list of the free apps you'll find useful when traveling in Korea.)
Consider bringing your own towel: this isn't a must, but the ones in Korean public spaces, such as Korean bath houses, are the size of a hand towel! (At 5-star hotels in Seoul, you get regular sized towels.)
Check Hotel Reviews: When booking a hotel, make sure it has non-centrally controlled AC! You'd be surprised how many 5-star hotels in Korea don't allow individual rooms to adjust the thermostat to their liking!
Note: Seoul if a super crowded, very densely populated city that is very popular with tourists, so be prepared for long lines, especially on public holidays!
Hang out at the Han River
Have a great time renting a mat for a picnic, taking a boat ride or cycling. You'll feel like you're in a K-drama! Or take a river cruise- some even have live music!
There are also lots of water sports to try, such as paddle boarding and jet skiing.
Once you've worked up an appetite, head to the wide variety of street food stalls which can be found at select points along the riverside!
Note: for the more active, you can even try kayaking at Ttukseom National Park.
Stroll along Cheonggyecheon Stream
Cheonggyecheon Stream 청계천 is a 11km long stream in the centre of Seoul. You can use it to get from the famous Gwangjang Market to near Insa-dong, for example.
Because it's located slightly under street level, and thanks to all the water, it's 3-4 degrees cooler than the rest of Seoul! Before visiting, I thought it was overrated but it's really quite nice. You will be surprised to see various types of birds there and, in the evenings, there are buskers singing and playing the guitar.
Take a Dip
There are 8 outdoor pools in Seoul.
Located near the Han River, they open to the public during the summer. Each has a variety of different facilities such as water slides. Don't go during the weekend though, as it'll be overrun by families with lots of young children!
Alternatively, visit a Korean water park, such as Caribbean Bay or Lotte Water Park! Ocean World Water Park in Hongcheon is the most popular one in Korea!
Follow the AC
Museums
Heading to a museum in Seoul has never been more attractive, as they have AIR CONDITIONING! (This is when you'll need your light jacket.)
If you're interested in Korean history, head to the National Museum of Korea. It goes back to paleolithic times!
Malls
I never thought I'd recommend visiting a mall but, in the Seoul summer heat, Seoul's many air-conditioned spaces is a welcome refuge from the weather.
There are many shopping malls such as Myeongdong Lotte Department Store or Dongdaemun Design Plaza which can provide you with relief from the sweltering temperatures. Spend some leisurely time indoors, exploring Korean fashion, cosmetics, and local eateries.
Or explore underground, at the COEX underground mall in Gangnam!
Visit a Theme Park
Now my travel blog is for people who have no kids, so you won't really catch me recommending a theme park in my itineraries.
However, I have to for summer in Seoul because some, such as Lotte World, have ice rinks! What better way to keep cool whilst having fun? Or Everland, which has water rides AND is an air-conditioned (shuttle) bus-ride away!
Seoul Forest
This is one of my favorite spots in Seoul and my very favorite in Gangnam! You can rent a bike or drive something like a go-kart under the tall trees.
There's also a row of cute shops and restaurants right outside which is a great place for a stroll and bite.
Try Korean Summer Foods
Korean cuisine is diverse and delicious, and summer has its own array of seasonal dishes.
Koreans like to savour Samgyetang (Korean chicken ginseng soup) during summer. It's part of their idea of fighting the heat with more heat (이열치열 iyeol chiyeol.) This is a traditional East Asian medicine idea which believes that you need to replace the chi that is lost during hot weather.
There are other iyeol chiyeol foods beside Samgyetang, such as Nakji Bokkeum, a specialty of Busan. Unfortunately most Nakji Bokkeum restaurants in Busan require you to have at least 2 people before they will serve you. (Or you can order for 2 and eat for 1, but let's not waste food!)
However, if your idea of a good time is not slurping up hot soup in hot weather, why not try other dishes such as:
Naengmyeon 냉면: these are spicy cold noodles. Some come with a refreshing cold broth. If you like it, you can pick up instant packets at any convenience store to bring back to your home country!
kongguksu 콩국수: noodles in soy beans soup
makguksu: buckwheat noodles in cold broth, or Gangwon's take on Naengmyeon.
chogye guksu 초계국수: chicken noodle soup with a chilled vinegary mustard broth
Patbingsu: this is a gorgeous shaved ice dessert! The flavoured ice flakes are so fine, they melt on your tongue, like ice cream. Actually, bingsu often comes with a scoop of ice cream on top along with other toppings such as fresh fruit or red beans. They're so good, I feel like having one now as I write about it!
For those who can't take the heat, here are some of the best non-spicy Korean foods!
Note: for the kongguksu, try the one at the MyeongDong Kyoja. It has a Michelin Bib Gourmand! Unlike other places on the Michelin list, I don't find it overrated at all. It's not the best food I've eaten, but it's consistently delicious and inexpensive. (Just stay away from the Naeng Myeon which is REALLY SPICY.)
Embrace Evening Activities
As the sun begins to set, the temperature becomes more bearable. Luckily Seoul is the city that never sleeps!
Take advantage of the cooler evenings and explore night markets such as Namdaemun Market or simply stroll around Myeong Dong which opens and closes late! (Dongdaemun Night Market is another one that is commonly suggested but I don't really find it worth visiting. For more of my suggestions on the best things to do in Seoul, click here.)
You can enjoy street food, shopping, and the vibrant nightlife that Seoul has to offer!
Note: Gyeongbokgung even offers night time tours in summer!
Take a Day Trip
Or take a day trip from Seoul to Nami Island! The many tall trees will provide lots of lovely shade for a cooling walk.
If not, how about a DMZ tour.
Head to the Beach
If you have more time, why not visit Busan or Jeju Island, which both have some magnificent beaches?
The typhoon winds are no joke there though, so check the weather forecast before you head over. It was too windy to walk outside when I was in Jeju, and that was in April!
Jeju
Koreans love Udo Island, a small island off Jeju Island, where you can rent the cutest colourful cars. (You'll need an international driving license.) Be warned that the ferry can get very packed though!
Busan
Busan is just a few hours by train from Seoul. It's home to the most famous Korean beach, Haeundae Beach, where you can find several 5-star hotels along the promenade. At night, there are also live performances along the beach and fireworks!
You can also check out Busan's 4Seidon Water Music Festival!
Near Seoul
Closer to Seoul, there's:
Yeongjong Island, a popular spot for families due to its sandy beaches with white sand and shallow waters
Naksan Beach
Gyeongpo Beach is about 2.5 hours from Seoul by bus. (It's only an hour to Jeju by plane!)
Surfyy Beach
Or the Mountains
Koreans love to visit a 계곡 gyegok, a mountain valley with a stream or river, during the summer to cool off. The water remains surprisingly cold in summer and many will be open for public swimming.
There's one close to home: just follow the Nadeul Road in Gwanaksan Mountain in Seoul. It's a 6 km route with cold water streams. Do remember to wear appropriate hiking shoes and bring a refillable water bottle!
Climb an Ice Wall
That's in the Guinness Book of Records! At Kolon Climbing School, you can find the "tallest ice wall in the entire world" at 20 feet!
Korean Summer Festivals
Hangang River Festival
Hanging River actually has a festival EVERY season!
In summer you can enjoy water sports and activities, In 2023, there was even a race in which competitors sailed in their own boats made out of recycled materials! How fun is that! (You pay 20,000 won per team to take part.)
For the less active, you can enjoy a night time expedition by guided canoe.
Waterbomb Seoul
If you enjoy partying, this annual festival is one of the best things to do in Seoul in summer. (If you hate crowds, skip it.) It also heads to other Korean cities, such as Busan, so the dates change bit every year.
Note that you have to be over 19 to attend and that tickets have to be purchased in advance. For more questions about Waterbomb, click here. There will be water cannons, water guns, fire displays and live music performances!
In June
Pride Festival: Be warned that Koreans are quite conservative when it comes to sexuality. I know a gay guy who left his teaching job in Korea because he didn't feel accepted. However, it does host a Pride Festival in June.
Goseong Lavender Festival : Koreans LOVE taking photos with flowers in the background. You will find them hiding in a clump of flowers that just spans 1 m (in the photos, you can't tell that there are so few flowers.) Luckily, at Goseong, you won't have this problem as there are flowers everywhere!
In July
Boryeong Mud Festival (보령머드축제): Boryeong, a town 200 km from Seoul, hosts an annual mud festival every summer where you can swim and slide in mud. Boryeong Mud Festival started as a way to promoted cosmetics made from mud in Boryeong. It's an inspiring rejuvenation story, somewhat similar to Gamcheon Culture Village in Busan, as the event was started in Daechon Beach in 1998 to help the local economy, which used to be at serious risk. By 2007, it attracted over 2million visitors!
Buyeo Seodang Lotus Flower Festival : There are over 50 types of water plants at this festival. In East Asian culture, lotus is considered a symbol of purity. (There is even a Chinese proverb that refers to how the lotus emerges from the mud, unstained.)
Sinchon Watergun Festival (신촌물총축제) – This festival always takes place toward the end of July, but you can feel like a kid again and have the time of your life.
Korea Summer Festivals in August
Incheon Pentaport Rock Festival (인천 펜타포트 락페스티벌): For rock music fans, head to Incheon Pentaport Festival! It's held in Songdo and features famous international bands. It's somewhat similar to Roskilde in Denmark, as you can camp over too.
Daegu Chimac Festival (대구치맥페스티벌): If you love Korean fried chicken and beer, head to Chimac festival! (However, I have to be honest and say I wasn't too impressed with Daegu when I visited.)
As you can see, surviving summer in Korea is possible! Remember to dress smartly, stay hydrated, and plann your summer activities wisely to stay cool in the summer heat. Any questions about summers in Seoul, let me know in the comments!