South Korea is a beautiful country with a rich cultural heritage and stunning natural landscapes. There are things to see in every part, from Seoul to Jeju. A well-planned itinerary can help travelers make the most of their time here. Based on my experience of travelling to Korea nearly 10 times, here is a suggested itinerary for a trip to South Korea, with sub-sections for Seoul, Busan, Gyeongju and Jeju Island.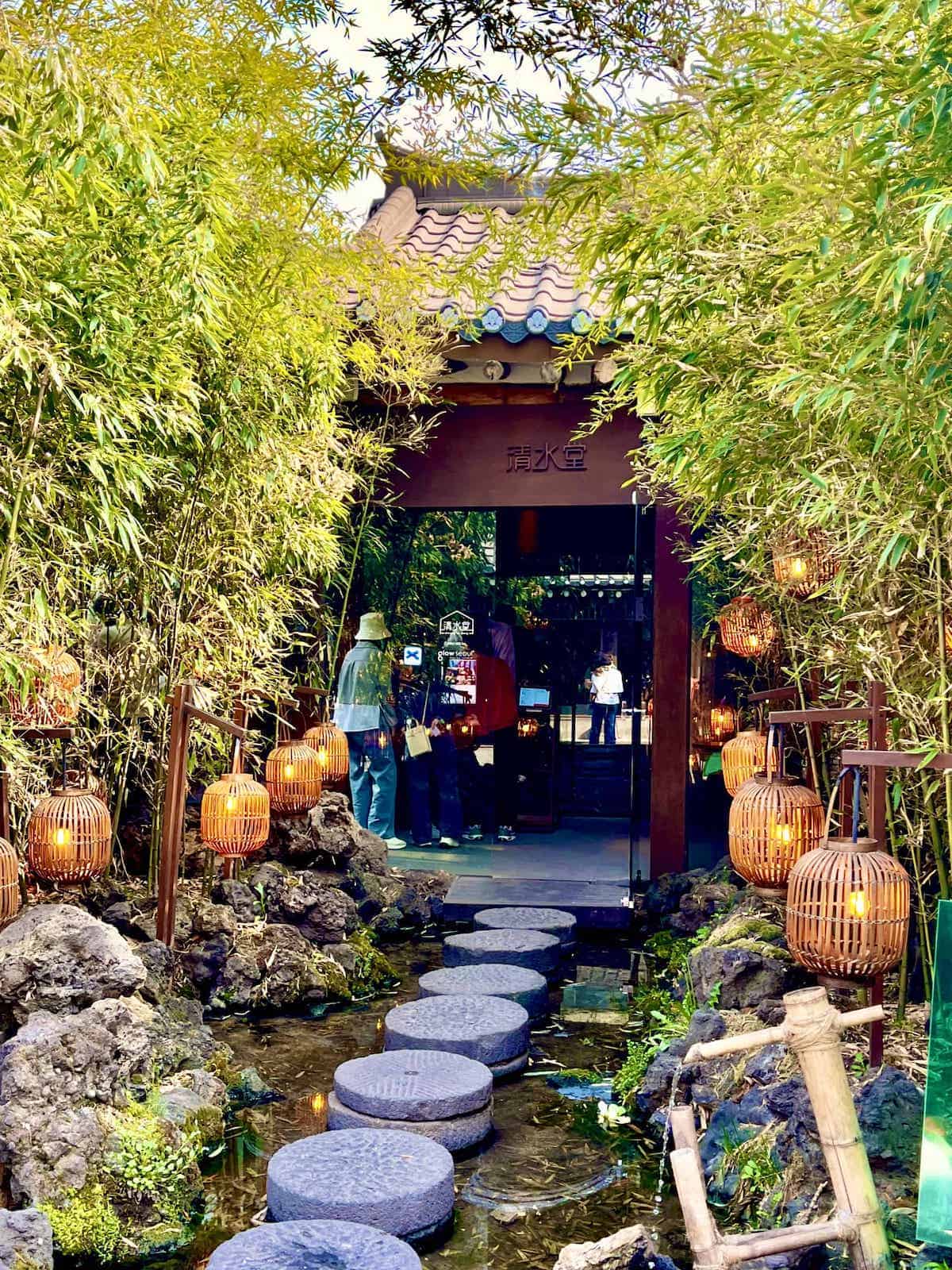 Jump to:
Before you fly, here's a last minute travel checklist for you
Seoul
Seoul is the capital city of South Korea and a must-visit destination for any traveler. If you only have time to go to 1 place in Korea, I would have to recommend Seoul. It's also an easy place to visit as there are many international flights inand out of Incheon airport everyday.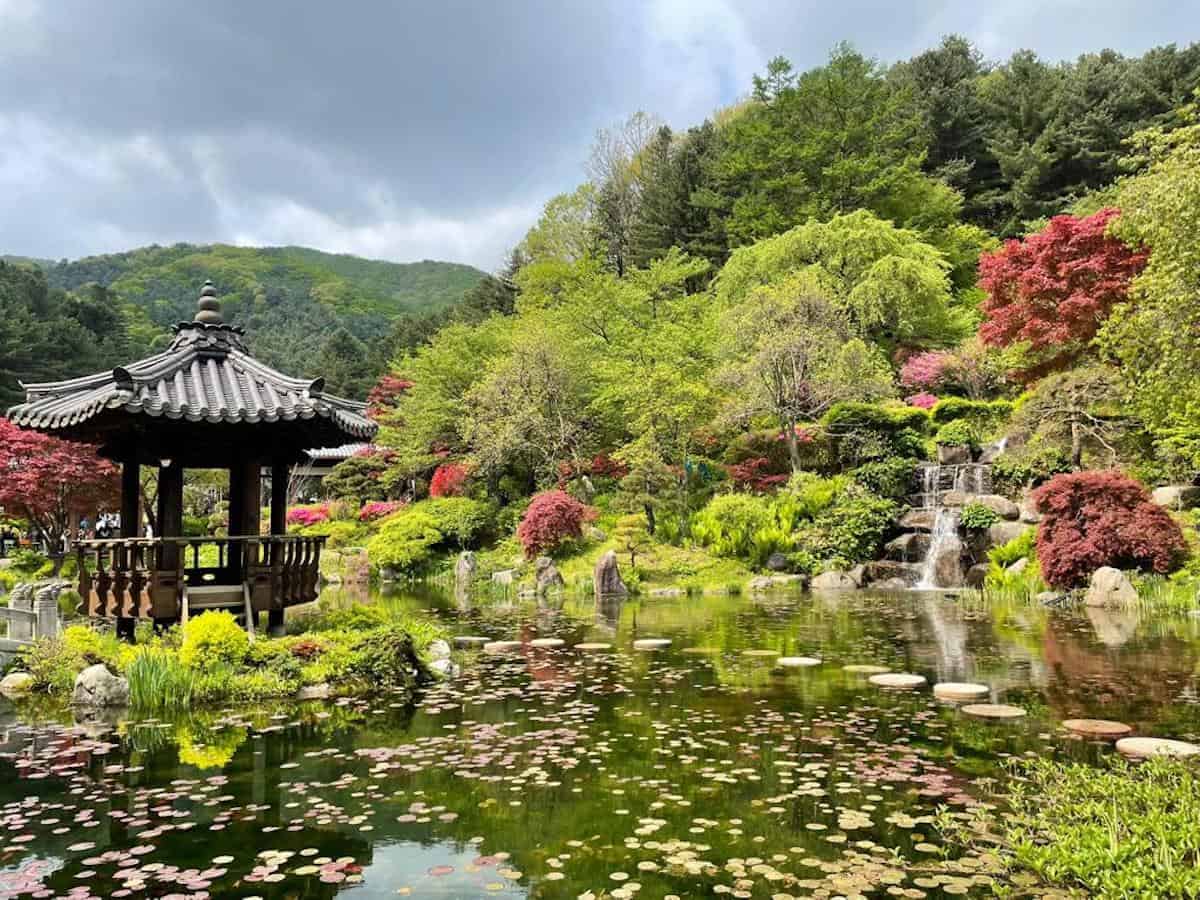 It is also 1 of the best places to use as a base for day trips to nearby attractions such as Jeonju, Nami Island and Petite France. (The latter 2 are rather overrated in my opinion, unless you are a huge Winter Sonata fan/ don't mind huge crowds. I highly recomend visiting Jeonju, the country's gastronomic capital, isntead!)
Here are some of the top attractions to include in a Seoul itinerary:
Gyeongbokgung Palace​: Seoul has several royal palaces and this is the largest. It is a stunning palace with traditional Korean architecture and beautiful gardens. Another good palce to visit is Changdeokgung Palace and its Secret Garden!
Namsan Park: This is a great place to enjoy 1 of Korea's favorite activities: hiking! It has the 236.7 m (777 ft) tall N Seoul Tower which is a popular spot to enjoy panoramic views of the city.
Bukchon Hanok Village: This traditional Korean village has well-preserved hanok houses interspersed with trendy cafes. The neighbouring Insa-dong is 1 of my favorite places to enjoy a cup of traditional Korean tea. Another hot area is Ikseon-dong which gentrified in the last decade. It's very trendy, with many Instagrammable cafes and shops but I personally find it too crowded to be enjoyable. (You often have to queue for 1 hour just to get a seat at 1 of the pretty cafes!)
Myeong-dong: A bustling shopping district with street food and trendy shops. The skincare shopping, in particular, is phenomal. It's 1 of the most convenient places to stay in Seoul, if it's your first time there. (Click through for other recommendations.)
DMZ Tour: This isn't for everyone but if you're interested in the Korean War and relations between South Korea and North Korea, it's well-worth your time to visit the Demilitarized Zone (DMZ) between North and South Korea.
National Museum of Korea: a must-see attraction for visitors who want to learn more about the country's history and culture.
Traditional Markets: Seoul is full of fascinating markets, from Namdaemun Market to Gwangjang Market. Namdaemun is huge, close to Myeongdong and sells everything from electronics to clothing but Gwangjang is of Netflix fame!
For a more comprehensive itinerary for Seoul or for a 3-day Seoul itinerary, click here.
Note: Seoul is the biggest city in South Korea and visitors will find many attractions within walking distance of each other in the city center.
Busan
Busan is a coastal city in the south of South Korea and a popular destination for its beautiful beaches and seafood. It's actually the 2nd largest city in Korea but closer to Japan than Seoul!
I like Busan but it's not for everyone as it's a port city which can be quite rough.
Here are some of the top attractions to include in a Busan itinerary:
Haeundae Beach: A white sand beach with crystal clear water and a lively atmosphere, this is Korea's most popular beach and 1 of Busan's poshest districts. If you're looking for a more luxurious stay, this is 1 of the best places to stay in Busan.
Gamcheon Culture Village: A colorful hillside village with street art and cute cafes that I highly recommend visiting! It used to be a slum and the story of how it's been rejuvenated into an artist's village and tourist attraction is so inspiring. Do note that people still live there so please be respectful!
Taejongdae Resort Park: A scenic park with stunning views of the ocean, cliffs and forest! You will find haenyo, or sea women, who dive without diving equipment to catch seafood, selling their fresh catch on the beach under the cliffs! For those who can't walk too much, they have have a train ride that allows you to see all the sights but bear in mind that it can get VERY crowded on the weekend.
Jagalchi Fish Market: A bustling market with fresh seafood and local delicacies. I usually stock up on dried seafood, such as dried shrimp on the 2nd floor. Secret tip: there's a great view of the sea from the top floor, where you'll find more restaurants.
Busan Tower: A tall tower with panoramic views of the city- I have to confess, it's not really 1 of my favorite attractions in Busan!
Visit the spa at Centum City: fascination by the Korean jjimjjibangs you see on K-dramas? Check the 1 at Centum City out! (This is close to Haeundae Beach- Busan, like Seoul, is huge and you can lose a lot of time commuting so plan your days before heading out!)
Visit Jeonpo Cafe Street: 1 of the best things to do if you're staying in Seomyeon, Busan!
For more of the best and worst things to do in Busan, click here.
Gyeongju
Busan is relatively near Gyeogju, a less well-known area that is also very much worth visiting. Known as a living museum with no walls, it's very much associated with the culture and history of Korea as it was the capital of Korea during Silla times.
Explore the Silla tombs at the Daereungwon Tomb Complex: there are 23 of them and you can even enter the Cheonmachong Tomb 천마총!
Have a temple stay at Golgulsa Temple
Visit Wolji Pond at Night
Seokguram Grotto: another UNESCO Heritage World Site
Bulguksa Temple: dates back to the 6th century!
During my 2nd visit to Korea way back in 2010, I visited Gyeongju and stayed in a traditional Korean hanok, run by a descendent of Korean royalty! At that time, he was campaigning to get the royal reinstated but... seeing how it's 13 years later and they're still a republic, I guess he was unsuccessful!
It was a very basic stay- we had to cower to get into the (en-suite) loo and the door had a paper door locked with a spoon!- but very memorable!
Jeju Island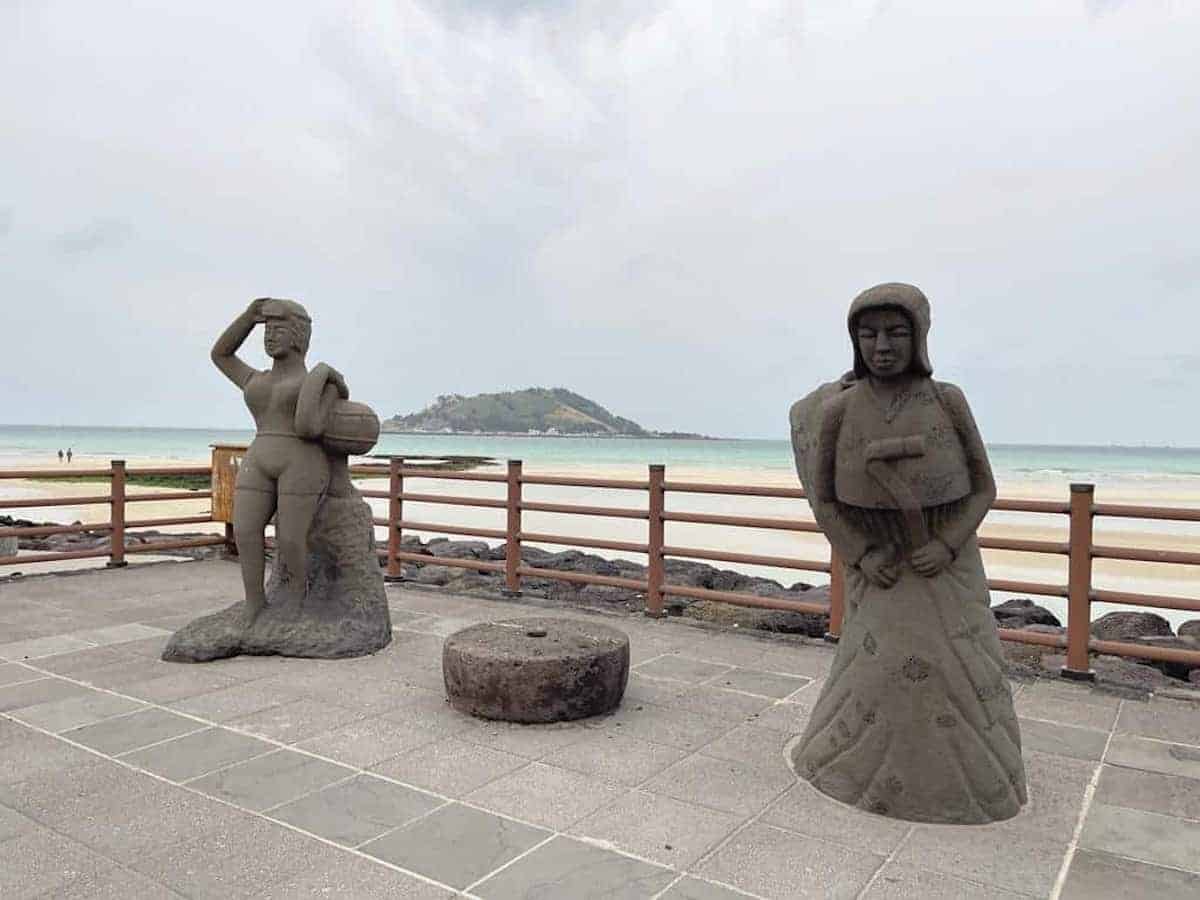 Jeju Island is a volcanic island off the southern coast of South Korea and a popular destination for its natural beauty and unique culture. Koreans LOOOOOVE it and think of it as their very own Hawaii. If you've watched Korean dramas, it's highly likely that you'll have seen or hear of it!
Here are some of the top attractions to include in a Jeju Island itinerary:
Aewol Cafe Street: This is a popular street with many cute cafes, relatively close to Jeju City. Do note that the street is very narrow, with no real pavement, so it can feel a bit challenging walking or driving there. Some people also find it overhyped. However, I very much enjoyed my time at the cafes there, looking out to the spectacular view of the sea. The food was also amazing- the best I'd had in all my Korean trips!
Seongsan Ilchulbong Peak: A UNESCO World Heritage site with a stunning crater and views of the ocean.
Udo Island: Translated as Cow Island, this is a small island off Jeju where you can rent a small scooter and get around. They're cute and colorful!
Jeju Folk Village: A traditional Korean village with thatched-roof houses and cultural exhibits.
Manjanggul Cave: A lava tube cave with stunning rock formations and a unique ecosystem.
Jeju Loveland: If you're looking for something more off-beat, this is a quirky sculpture park with erotic art and exhibits.
Beaches: Spend your last day in Jeju Island relaxing on the beaches and soaking in the beautiful scenery.
Note: Jeju City is HUGE. You'll need to plan your itinerary carefully to avoid wasting time on travelling from place to place. The 2 most popular places to stay are either in Jeju-city (where your airplane lands) or Seogwipo to the South.
Others
If you have extra time, I highly recommend visiting 1 of the hot spring resorts dotted around Korea. I've been to a few and it was fairly magical soaking in the springs in the winter! (Do note that many of them don't allow bathing suits so check before you visit if that is something you're uncomfortable with.)
Where Not to Visit
Daegu
I only have 1 place that I did NOT enjoy visiting in Korea and that is Daegu. It was a few years ago, but the city felt very bleak and depressing and there weren't many interesting things to do. Having said that, Korea has changed a lot in the years I've been visiting so Daegu could have evolved into a great place to visit! (However, I'm not tempted to visit again to find out!)
Fun fact: Daegu is said to have the prettiest girls in Korea and, apparently, it's because they eat Daegu apples. I tried the apples when there but, alas, no effect on non-Koreans!
Ulsan
Another place that I've not visited but that my Korean friend is always complaining about is Ulsan. According to her- she got moved there for work- it is the most boring place ever so I've never felt the urge to travel there!
Practical Information
When to Visit
The best time to visit Korea is in fall. The changing leaves are simply too gorgeous, the temperature is moderate (not too hot and not too cold) and the air quality is much better than spring!
Note: Spring is another popular time to visit as the weather is also mild, however, the season is plagued by horrible air quality.
Arrival and Departure
When traveling to South Korea, visitors will need a valid passport and may also need a visa or a Korean Electronic Travel Authorization (K-ETA), depending on their country of origin. Between April 1, 2023 and December 31, 2024, passport holders from 22 countries will temporarily not require a K-ETA or visa to visit Korea. It's best to apply for a K-ETA at least 72 hours before departure.
Incheon International Airport is the main gateway into South Korea and is located about 30 miles west of Seoul. Visitors can take a taxi, bus, or train to get from the airport to the city center.
Booking a private car is obviously the most convenient option, but they are expensive. Buses and trains are more affordable and offer frequent service. If you're staying in a hotel that is on the airport bus route, such as Lotte Hotel, 1 of Seoul's best hotels, I highly recommend taking the airport limousine bus. (Relatively inexpensive and comfortable!)
Getting Around in Korea
South Korea has an extensive, efficient, affordable and easy-to-use public transportation system that includes buses, trains, and subways. Visitors can purchase a T-money card, which is a rechargeable transportation card that can be used on all modes of public transportation, and even gives you a small discount sometimes. (They can be bought and recharged at the convenience stores you see dotted all over Korea.)
Note: the buses start, stop and turn very aggressively. You may not be able to get a seat during peak hour and it can be difficult to keep your balance in the bus. The bus system is also rather confusing so I recommend taking the subway over the bus.
For visitors who plan on traveling outside of the city center and are considering renting a car: note that driving in South Korea is VERY challenging. (For example, zebra crossings and pavements are taken as suggestions- I regularly see vehicles driving onto the pavements!) There are quite a lot of road accidents every year.
Visitors should also be aware that there may be extra costs associated with renting a car, such as tolls and parking fees.
I usually travel by train instead and that's what I would recommend if you're not a super confident driver.
Food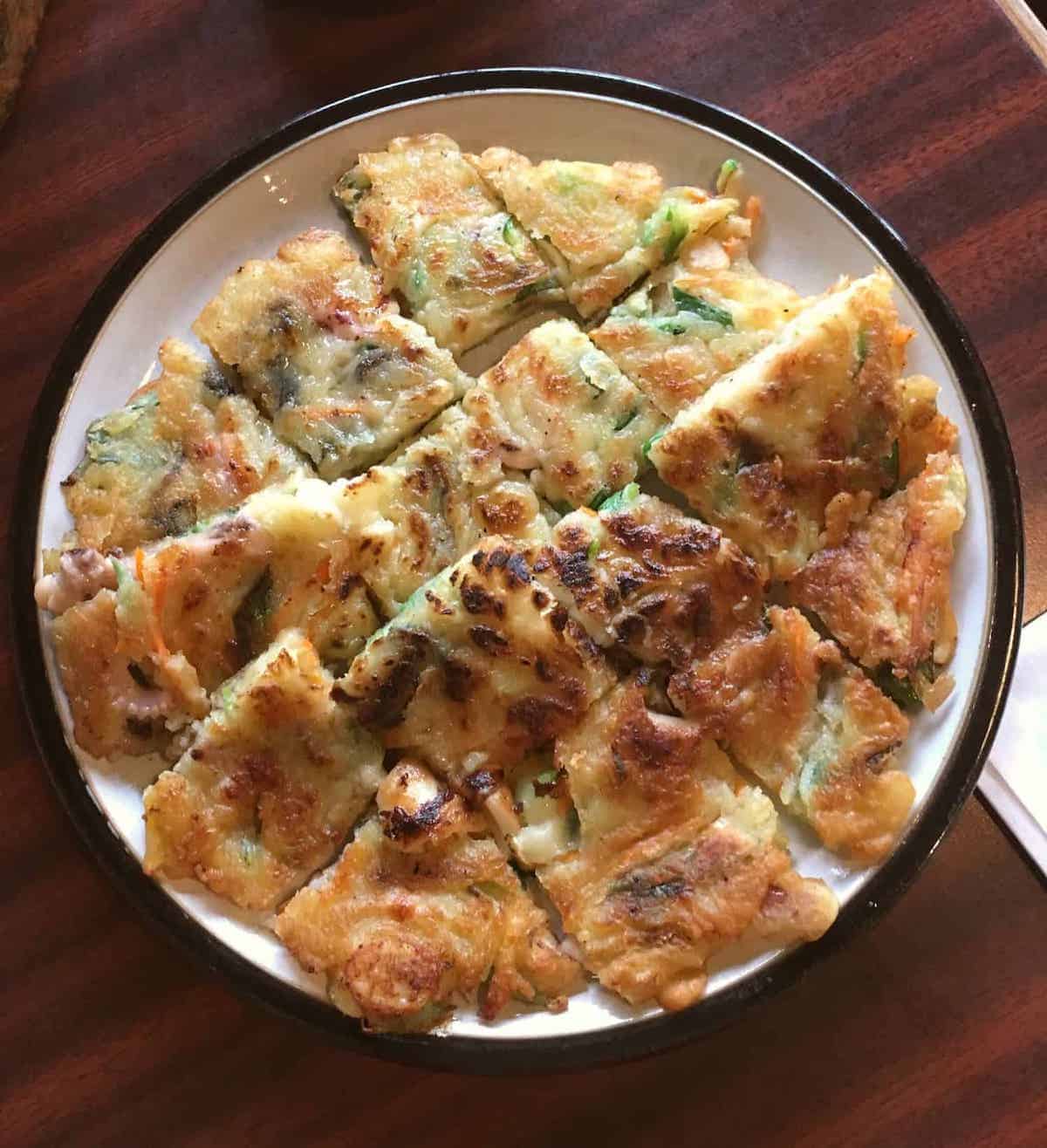 Other Practical Information
Free Wifi is available almost everywhere. However, to stay connected during their trip, visitors may want to consider purchasing a local SIM card or e-SIM (my preferred option as there's no need to queue.)
Travel insurance is always a good bet when traveling to a foreign country.
The tallest building in Seoul is the Lotte World Tower, which is worth visiting for the unique experience and great views.
Good news for early birds: many attractions in South Korea open early in the morning, so visitors can start their day off with a good time.
Affiliate links will (in the future) be available for certain services or products, but visitors should always research and compare prices before making a purchase.
Despite being a small country, South Korea has a lot to offer and is definitely worth visiting for a first trip or a return trip.
Frequently Asked Questions
What currencies are accepted in Korea?
The currency in Korea is the Korean won. In Myeongdong, money changers are everywhere and you can easily change other currencies such as US dollars, Singapore dollars, China Renminbi and more. There are even electronic machines which exchange currency for you in many Lotte hotels and in Insa-dong. However, once you leave Seoul, it is much harder to find money changers. In Busan, Korea's 2nd city, there were only a few (in comparison to Seoul) and they only accepted US dollars and Taiwanese dollars. Hence, if you prefer to have cash on hand, I would recommend exchanging Korean won before your trip and bringing US dollars just in case. (Most places in Korea accept credit card.)
What do I need to prepare before my Korean holiday?
There are any number of things, from changing money to applying for your K-ETA. You may also like to download these best apps for South Korea (for example, Google maps does not work in Korea.) Here are more tips to help you prepare for your Korean trip!
What can I buy in Korea?
Korea is a paradise for shoppers, especially if you like Korean fashion or beauty and skincare. They have a lot of good quality skincare products that are inexpensive. If you're looking for Korean souvenirs or Korean traditional snacks, click through for my recommendations on what to buy.